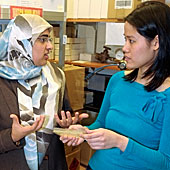 Heba Diab and Sheena Claire Li, PhD students in Biochemistry and Molecular Biology, use the yeast model system to study basic cell functions. Yeast enzymes are similar to human enzymes, which makes yeast a popular tool among researchers.
SUNY Upstate's Biochemistry and Molecular Biology students have a time-consuming advantage—the Virtek pinning robot that transfers individual yeast mutants from one plate to another to test their responses. "It's a nice way to get a lot of data quickly, so you can spend time addressing the major question behind the experiment," said Deb, who studies oxidative stress in cells.
Biochemistry students are at the front end of translational research, conducting the basic science that can lead to treatments for diseases such as osteoporosis and cancer.
Content
Apply/Request a Brochure
How to Apply
Students are admitted into the Department of Biochemistry and Molecular Biology through the SUNY Upstate Biomedical Sciences Program, which allows access to all Biochemistry faculty, as well as faculty from the other departments at Upstate. The Biomedical Sciences Program admissions page contains application forms and admissions information. You can learn about faculty research in all departments by visiting the Graduate Studies Program page.
Request a Brochure
If you are interested in graduate research in the Department of Biochemistry & Molecular Biology, by all means let us know!

To review our graduate program brochure online, click here

.

Fill out the information below to have our graduate program brochure mailed to you. We also encourage you to contact any of our faculty directly by email. All faculty email addresses can be found by clicking on a faculty member's name on the Faculty page.