CONTACT US
If you, or someone you know, is interested in enrolling in a Vitality program or would simply like to learn more, please call:
Carol Sames, PhD,
Vitality Program Director
315-464-9992
or
Upstate Connect
1-800-464-8668
(toll free).
Content
Program Cost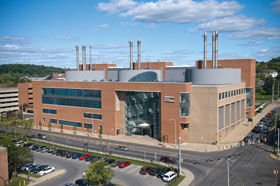 The cost of participation in the Vitality Fitness Program is
$45/month for either the land

or

pool program
or $70/month for both the land

and

aquatics program
The cost for the initial assessment is $50
Locker rooms are available and located near the pool area. In addition, all areas are wheelchair and elevator accessible. For questions regarding program cost, please call 464-9992.