Female Urologic Oncology (Kidney & Bladder Cancer)
Patients have the expertise of multiple disciplines to review their kidney or bladder cancer diagnosis and treatment plan to ensure that the best possible plan for each patient is put in place.
Upstate's Female Urologic Oncology Providers are fellowship trained and experienced in the treatment of kidney tumors, bladder and urethral cancers. Upstate's multidisciplinary tumor board reviews each case bringing the benefits of a vast array of experience to bear on each plan of care. Patients have the opportunity to participate in clinical trials, as Upstate's providers take part in ongoing research for kidney and bladder cancers.
Upstate Urology provides these services at each of our clinic locations: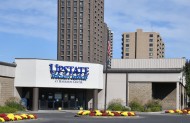 Upstate Urology at 550 Harrison
Upstate Specialty Services at Harrison Center
Map & directions
Suite N
550 Harrison Street, Syracuse, NY 13202
Phone:
315 464-1500
Fax:
315 464-6117
Office Hours:
7:30am-4:30pm
---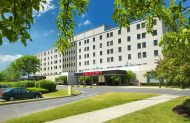 Upstate Urology at Community
Upstate University Hospital - Community Campus
Map & directions
4900 Broad Road, Syracuse, NY 13215
Phone:
315 492-3700
Fax:
315 492-3596
Office Hours:
8:30 am to 4:30 pm
---
Upstate Urology - Rome
Rome Medical Practice
Map & directions
Suite 300
267 Hill Rd, Rome, NY 13440
Phone:
315 356-7390
Fax:
315 356-7393
---
Please contact any of our offices to schedule an appointment for you. Or for questions, referrals or to schedule an appointment, please Contact our Women's Health Network Nurse Liaison.
Providers
Gennady Bratslavsky, MD
315 464-4473
Education & Fellowships
Fellowship: National Cancer Institute, NIH, Bethesda, MD, 2007, Urologic Oncology
Residency: Albany Medical Center Hospital, 2005, Urologic Surgery
MD: Albany Medical College, NY, 2000
Diseases/Specialties/Treatments
Urology; Urologic Oncology; Advanced Prostate Cancer; Bladder Cancer; Kidney Cancer; Prostate Cancer;
more
Research Interests
Molecular imaging of prostate, kidney, and bladder cancer
Progression of prostate and kidney cancer
Biomarkers, circulating tumor cells (CTCs)
Education Interests
Resident and student mentoring in basic and clinical research
Clinical Interests
Outcome evaluations of minimally invasive robot-assisted and laparoscopic prostate and kidney surgery
Associations/Memberships
American Urological Association (AUA)
Society of Urologic Oncology
Onondaga County Medical Society
---
Oleg Shapiro, MD
315 464-1500
Education & Fellowships
MD: SUNY Upstate Medical University
Residency: University Hospital, Upstate Medical University, Syracuse, NY
Certificate of Advanced Study: Fox Chase Cancer Center, Philadelphia, PA, 2008, Urologic Oncology
Diseases/Specialties/Treatments
Urology; Advanced Prostate Cancer; Bladder Cancer; Kidney Cancer; Nephrolithiasis (Kidney Stones); Prostate Cancer;
more
Research Interests
Kidney and Bladder Cancers
Education Interests
Medical Student Clerkship Director
Clinical Interests
Urologic Cancers, Stone Disease
Associations/Memberships
American College of Surgeons (ACS), Fellow
American Urological Association (AUA)
---
Srinivas Vourganti, MD
315 464-1500
Education & Fellowships
Fellowship: NIH, Bethesda MD, 2013, Urologic Oncology
Residency: Case Western Reserve University School of Medicine, 2010, Urology
MD: Ohio State University College of Medicine, 2004, Urologic
Diseases/Specialties/Treatments
Urology; Urologic Oncology; Bladder Cancer; Kidney Cancer; Penile Cancer; Prostate Cancer;
more
---