Content
Welcome to the Upstate Triage and Transfer Center
The Upstate Triage and Transfer Center Nurses wear many hats during a shift at work. We know that the services that we provide are important in upholding the mission and core values of the hospital. As members of the Nursing Department at Upstate University Hospital, we look forward to the growth and development of our department.
As of July 1, 2013, the Upstate Triage and Transfer Center (UTTC) Nurses fall under the Nursing Department at Upstate University Hospital. The center has been under new leadership since March of 2013. The nurse manager for the department is Joey M. Angelina, BSN, RN. Joey previously worked as an operating room nurse at Upstate Medical Center and a supervisor at a 911 center. The director of the department is T. Michele Caliva, RN, MA, CSPI.  Michele is also the administrative director for the Upstate New York Poison Center. The UTTC department consists of 15 nurses. Our nurses come with many years of diverse experience. We are located in Suite 109 Jacobsen Hall.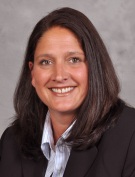 Joey Angelina, MS, BSN
Nurse Manager
With our new leadership, there have been many changes for the department. At this time, we have approximately 25 contracts in place for after hours nursing triage. Our clients are doctor's offices, group homes and internal hospital agreements. Our services are used after the offices are closed and the public needs assistance deciding whether or not their loved one needs to be taken to the ED. We follow nationally recognized guidelines and we are under the medical direction of Dr. Deborah Mann.
Visit the Triage Nurses web page to learn more.