Content
Stroke Treatment
Brain expertise
Stroke care depends on physicians, nurses, therapists and more. Patients who are wheeled into Upstate University Hospital's emergency department suffering from stroke are likely to receive acute treatment and rehabilitative care under the same roof, followed by the same ensemble of providers.
The Upstate Stroke Center, the area's first and only designated Comprehensive Stroke Center, features the region's only specialized neuroscience and rehabilitation floors, with three levels of specialized nursing care. The neurologists, neurosurgeons and emergency physicians train students and conduct research that improves our understanding of how the brain works and how best to treat stroke. But they are always on call to care for patients with stroke.
Since becoming a stroke center, Upstate has also taken care of hundreds of complicated stroke patients who were too sick to be cared for at other hospitals in Central New York. The hospital's stroke team works together to determine what treatment is best for each individual patient.
Before arrival
Upstate has partnered with area EMS agencies to ensure the highest and most efficient level of quality communication. This partnership allows EMS to notify the Emergency physician and the stroke team prior to arrival which ensures the fastest treatment times possible.
2015/2016 Median Door to t-PA Times
2015/2016 Median Door to t-PA Times

In the ED
2015/2016 Median Door to Neuro MD times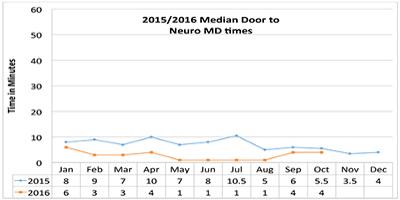 Upon arrival

, a potential stroke patient is immediately evaluated by both an Emergency Physician as well as a Stroke neurologist. After a quick evaluation, the patient is taken for an emergency CT scan of the brain. Once this testing is complete, the stroke neurologist will complete an in depth neurological examination. Based on the CT scan results, the exam plus an in-depth past medical/surgical history, the physician may decide to given a clot busting medication called tPA or Alteplase.
Some patients may also be able to be treated with a procedure to remove the clot and to reopen the blood vessel. This procedure is available at Comprehensive Stroke Centers.
If bleeding is found on the CT scan. Also known as hemorrhagic stroke, treatment depends on its location and severity. Sometimes it is managed with medications to carefully control blood pressure, says Gene Latorre, MD. Other times, surgery is indicated.
2015/2016 Median Door to CT Times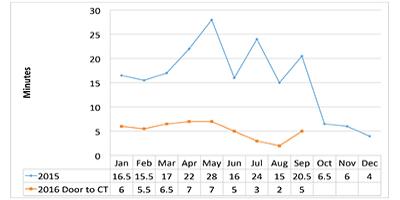 Door to CT time graph

Three Levels of Specialized Care
Upstate University Hospital's Neuroscience Services represents a comprehensive continuum of services and care for neurology and neurosurgery patients. The Neuroscience nursing units work together to support patient process and care throughout each level of need. We pride ourselves on the neuroscience nursing specialty, focusing on the unique expertise needed to care for this specialized patient population.
As patients progress through their recovery they are moved from the Neuroscience Intensive Care Unit to the Neuroscience Intermediate Care unit and/or the Neuroscience Medical Surgical Unit in our beautiful facility in the East Tower. Daily discharge planning rounds, involving all members of the multi-disciplinary team, occur Monday through Friday.
Neuroscience Medical Surgical Unit (9G)
9G is the 19-bed Neuroscience Medical Surgical Unit. The nurses on this unit care for a wide range of patients who have undergone complex neurological procedures as well as trauma. The unit also cares for a wide range of neurology diagnoses including stroke and migraine. The unit also has telemetry monitoring capability for 16 patients.
Neuroscience Intermediate Care Unit (9E)
The Neuroscience Intermediate Care Unit is a 13-bed combination step-down, stroke and epilepsy monitoring unit. The nurses are trained in critical care as well as epilepsy monitoring. This unit is the primary support for patients admitted with newly diagnosed stroke in need of emergent TPA administration. All beds have state-of-the-art monitoring capability.

Neuroscience Intensive Care Unit (9F)
The Neuroscience Intensive Care Unit is a state-of-the-art 14-bed neuroscience intensive care unit. 9F is the only Neuro ICU in Central New York. Nurses in this unit care for the complex neurocritically ill patient requiring advanced neuromonitoring and neuro-assessment. Common patient diagnoses include brain trauma, subarachnoid hemorrhage, subdural and epidural hematomas, brain tumors, and status epilepticus. Complex treatment modalities in the NSICU include intracranial pressure monitoring, and external ventricular drainage, the use of brain tissue oxygenation monitoring and induced therapeutic hypothermia for cardiac arrest as well as for complex neurological conditions. Specialized training and education is provided during orientation. A learning environment is supported in the daily routine of the NSICU staff. 
Rehabilitation
Physical, occupational and speech therapists and a physiatrist evaluate each stroke patient within 24 hours of admission, and rehabilitative therapy begins almost immediately. Upstate offers an inpatient rehabilitative unit, where patients may be moved once they are able to handle three hours per day of therapy.
Rehabilitative counselors offer support for patients in returning to work or school. The outcome of acute stroke care is tightly connected to how quickly appropriate emergency treatment is initiated, and the quality of the overall management provided. At Upstate, it is not unusual for patients with severe stroke to go home after three days, with minimal or no evidence of lasting stroke effects.