SUNY Upstate Medical University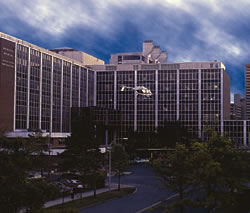 The College of Medicine at Upstate Medical University has a proud tradition of innovation and excellence. Today, the core of SUNY Upstate Medical University (formerly known as the Health Science Center) is the 350-bed University Hospital. Its clinical services, which host accredited residency programs, represent the full range of medical specialties. Clinical sciences and administration buildings are nearby, as are a new library and a human performance complex. Also located adjacent to the campus area is Crouse Hospital—a source of additional consultation and referrals.
The College of Medicine is one of four colleges including Graduate Studies, Nursing, and Health Professions. The Health Sciences Library contains more than 140,000 volumes and subscribes to more than 1,750 journals. It also serves as a center for the Biomedical Communications Network and is capable of direct computer access.
University Medical University is located adjacent to Syracuse University. We draw liberally on the talents of their faculty, and our faculty reciprocates. Similarly, students may arrange to take courses at both institutions.