Student Ambassador Program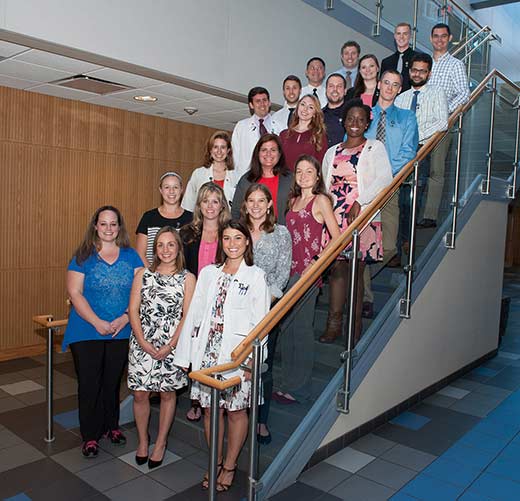 2016/17 President's Student Ambassadors: 

MPH - Michael Ioerger - 2019 
MD/MPH - Caleb Consenstein - 2017 
College of Grad Studies - Heather Nelson - 2017 
College of Nursing - Taylor Solak - BSN - 2017, Megan Greenman – DNP – 2018 
College of Health Professions 
   Resp Therapy - Heidi Beuttenmuller - 2017, Jennifer L. James - 2018 
   Radiation Therapy - Mary Gleason - 2018 
   Medical Imaging - Kenneth Morhiser - 2017 
College of Medicine - Class of 2017 - Ramzi El-Hassan, Caitlin Nicholson 
College of Medicine - Class of 2018 - Jordana Gilman, Syed Hassan, Demetrio Munoz, Gabrielle Ritaccio, Marc Seligson 
College of Medicine - Class of 2019 - Jane Akhuetie, Amanda Gemmiti, Daniel Kaufman, Marten Peterson 
College of Medicine - 2020  - Marcia Des Jardin, Elizabeth Piotrowski, Joseph Tersesi
The President's Student Ambassador Program is designed to support the President of SUNY Upstate Medical University in the positive promotion of this campus. The Student Ambassador core consists of a small group of students who will volunteer to serve as student representatives of the University before a variety of important constituent groups as requested by the President.
Student Ambassadors will be invited to attend events and to speak of experiences as a student to alumni and alumnae, donors, civic and cultural leaders, and friends of the University. These individuals are very much interested in hearing from students and learning about Upstate from their point of view.
Students from this core group will be invited, as guests of the President, to attend social functions, provide tours with visiting dignitaries, and speak about student life, academics, research, and clinical experiences.
Such events include:
Ad Hoc Presidential Meetings
Commencement
Fall Faculty Convocation
Reunions
Search Committees
Social Events at the President's Home
Student Ambassadors are enthusiastic individuals who enjoy meeting new people and who are good citizens of SUNY Upstate Medical University. They are interested in enhancing the reputation of the University and presenting ideas and suggestions that will improve the campus for generations to come.
The selection process is open to all students in the Colleges of Medicine, Nursing, Health Professions, and Graduate Studies. Any student interested in serving as a member of the President's Student Ambassador Program at SUNY Upstate Medical University is welcomed to contact:
Nancy Prott (prottn@upstate.edu)
Assistant, Office of the President