POSTDOC PROFILES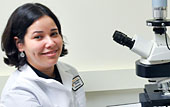 Reyna Martinez-De Luna, PhD
"I chose Upstate because I was very impressed with the Center for Vision Research..."
Read more…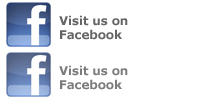 Content
Events
Photo: Lili Wang, PhD, a Postdoctoral Associate in Pharmacology, discusses her poster at the Beyond the Doctorate Research Day with Keynote Speaker Dr. Gerald Shadel, Professor of Pathology and Genetics at Yale School of Medicine.

We are proud to announce the Eighth Annual Beyond the Doctorate Research Day

will be held on Wednesday, March 7th. The Research Day - sponsored jointly by the Office of Postdoctoral Affairs and the Office of Graduate Medical Education - will include a keynote address, oral platform presentations and a poster session presented by postdocs, residents and fellows.
Wednesday, March 7, 2018 | 1:00 - 6:00 pm
New Academic Building 4414BC

1:00 - 3:15 pm | Oral Presentations | New Academic Building 4414BC


H. Hans Salamanca, MD (Anesthesiology)
"Dissecting the Molecular Hallmarks of Brain Tumors"

Ahmed Malik, MBBS, MPH (Preventative Medicine and Public Health)
"Factors Associated with Clinician Adherence to Clinical Practice Guidelines
for the Diagnosis of Alzheimer's Dementia"

Furqan Muqri, MD (Surgery)
"Effects of Thrombospondins and Statins on Angiogenesis Gene Expression"

Dandan Wang, PhD (Neuroscience & Physiology)
"Ethanol Exposure Disrupts the Growth of the Cortical Dendrite and
Aberrantly Activates Src-Family Kinases"

Rochelle Nagales Nagamos, MD (Pathology)
"Comprehensive Genomic Profiling of Relapsed and Refractory Primary
Sarcomas of the Urinary Bladder"

Lauren Krowl, MD (Medicine)
"Resident Compliance and Patient Safety Outcomes After Implementing
Standardized Shift Handoffs: The Docfish Method"

Pallavi Kopparthy, MD (Medicine)
"Diagnosis and Management of Heparin Induced Thrombocytopenia -
Are We Choosing Wisely?"

Scott Neal, PhD (Ophthalmology)
"Yki Promotes Drosophila Eye Imaginal Disc Development and is Indirectly
Regulated by Protein Phosphatase 2A"

3:30 - 4:30 pm | Keynote Address | New Academic Building 4414BC
Michael Barratt, MD
NASA Astronaut
"Space Flight: The New Physiology"
Dr. Barratt is a physician/astronaut with the National Aeronautics and Space Administration. He is one of the nation's few specialists dually trained and certified in both internal medicine and aerospace medicine. Having participated in two spaceflights, Barratt has served as Flight Engineer and performed two spacewalks. Currently, Dr. Barratt serves in the International Space Station Operations and Integration branches to handle medical issues and onorbit support.
POSTER SESSION & RECEPTION 
immediately follows.
Flyer of Events

Questions?
Contact Jennifer Brennan at
brennanj@upstate.edu
or 315.464.4543