POSTDOC PROFILES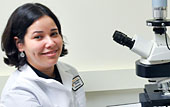 Reyna Martinez-De Luna, PhD
"I chose Upstate because I was very impressed with the Center for Vision Research..."
Read more…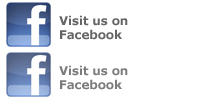 Content
Events
Photo: Lili Wang, PhD, a Postdoctoral Associate in Pharmacology, discusses her poster at the Beyond the Doctorate Research Day with Keynote Speaker Dr. Gerald Shadel, Professor of Pathology and Genetics at Yale School of Medicine.

BEYOND THE DOCTORATE RESEARCH DAY
Wednesday, March 7, 2018 | 1:00 - 6:00 pm
We are proud to announce the Seventh Annual Beyond the Doctorate Research Day will be held on Wednesday, March 7th. The Research Day - sponsored jointly by the Office of Postdoctoral Affairs and the Office of Graduate Medical Education - will include a keynote address, oral platform presentations and a poster session presented by postdocs, residents and fellows.
ABSTRACTS NOW BEING ACCEPTED!
All postdocs, residents and fellows are encouraged to submit an abstract and present their research project. This is an excellent opportunity to become more familiar with research activities happening here and refine your presentation skills for future opportunities.
Priority Deadline: Wednesday, January 24th at 12:00 Noon
A select number of presenters will be selected to give an oral presentation. In order to be considered for an Oral Presentation, you must submit your abstract by Wednesday, January 24th at 12:00 Noon. Selected presenters will be notified by mid-February.
Poster Deadline: Wednesday, February 14th at 12:00 Noon
Abstracts for a poster presentation will be accepted through Wednesday, February 14th.


AWARDS AVAILABLE!
Participating postdocs will be eligible to win an iPad for either the best oral presentation or the best poster presentation.
SUBMITTING AN ABSTRACT
To submit an abstract, simply follow the instructions

below and e-mail your completed cover form

and abstract to brennanj@upstate.edu by the appropriate deadline above.

Abstract Submission Instructions 2018

Questions?
Contact Jennifer Brennan at
brennanj@upstate.edu
or 315.464.4543