Postdoctoral Fellow Appointment Process
Step 1:
The Academic Fellowship Form must be completed. If a fellowship award is supported by Public Health Service (PHS) training grant funds, then additional PHS forms may be required to be submitted to PHS before the fellow's appointment date. (Academic Fellowship form available by contacting Research Payroll.)
The Academic Fellowship Form is used to certify, acknowledge, or accept various terms and conditions of the award. The certification, acknowledgement, or acceptance is accomplished when the responsible person signs and dates the form.
The following table describes the requirements of each person responsible:
Person Responsible:
Required to:
Project Director or Co-director
Certify that the award is permissible within the terms stated by the sponsor.
Operations Manager or Designee
Certify that the award is permissible within the terms stated by the sponsor and is consistent with RF and SUNY policies.
Certify that services are not required of the awardee and that funds are available in the applicable account for the award.
Fellow
Acknowledge that no service is required in consideration of the stipend provided by the award and that the fellow is subject to the University's academic policies applying to fellowship recipients.
Accept the Patent Waiver and Release Agreement as a condition of the academic fellowship award.
Step 2:
Is a J-1 visa required? If yes, please contact Mary Jo Dinuzzo: dinuzzom@upstate.edu
Step 3:
Send Fellow to the Human Resources Office for completion of additional paperwork and issuance of an ID badge.
Postdoc Profiles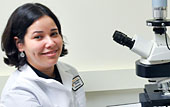 "I chose Upstate because I was very impressed with the Center for Vision Research..." [read more…]
"Upstate was the place for me to come to conduct the research in electrophysiology that I am interested in." [read more…]