Eileen A Friedman, PhD
Current Appointments
Hospital Campus
Research Programs and Affiliations
Biomedical Sciences Program
Cancer Research Institute
Research Pillars
Education & Fellowships
Fellowship: Albert Einstein School of Medicine, Bronx, NY, 1978, Cell Biology
Fellowship: New York University School of Medicine, 1974, Cell Biology
Fellowship: Johns Hopkins University, 1973, Molecular Biology
PhD: Johns Hopkins University, 1972, Molecular Biology
Research Interests
The role of the kinase Mirk/dyrk1B in solid tumors

Publications
Link to PubMed

(Opens new window. Close the PubMed window to return to this page.)
Research Abstract
Our lab cloned Mirk/Dyrk1B, a member of the Minibrain/dyrk family of serine/threonine kinases [1] which is amplified in ovarian cancers, pancreatic cancers, non-small cell lung cancers, and colon cancers.
Mirk/dyrk1B is an unusual kinase in that its expression and abundance varies during the cell cycle, with the highest levels found in quiescent, noncycling cells in G0, and with 10-fold lower levels in S [2], [3]. Furthermore, Mirk helps to maintain cells in the G0 quiescent state by increasing levels of the CDK inhibitor p27kip by phosphorylation of p27 at a site which blocks its degradation [2]. Mirk also prevents cells from entering G1 by destabilizing the cyclin D family of G1 cyclins, by phosphorylation at a conserved ubiquitination site which leads to rapid turnover [4].
Mirk is expressed in several cancers and has been shown to mediate the clonogenic growth of pancreatic cancer cells, colon carcinoma cells and rhabdomyosarcoma cells [1], [5],[6]. We recently have shown that Mirk mediates the survival of quiescent pancreatic cancer cells by inducing expression of a group of antioxidant genes which protect cells against oxidative stress generated by reactive oxygen species (ROS). Depletion of Mirk enabled these cells to escape the quiescent G0 state and enter S phase damaged by ROS and thus with reduced viability [7], [8]. Pharmacological inhibition of Mirk kinase will allow some quiescent tumor cells to be killed by their increased levels of ROS and also sensitize noncycling cells to chemotherapeutic drugs by inducing them to enter cycle by increasing their cyclin D levels.
Faculty Profile Shortcut: http://www.upstate.edu/faculty/friedmae
Postdoc Profiles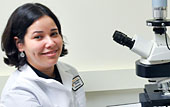 "I chose Upstate because I was very impressed with the Center for Vision Research..." [read more…]
"Upstate was the place for me to come to conduct the research in electrophysiology that I am interested in." [read more…]