Content
Teaching Tools
Poison Videos on YouTube
---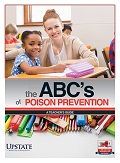 The ABC's of Poison Prevention: A Teacher's Guide
Our newly revised Teacher's Guide contains lesson plans and corresponding activities for teachers working in pre-school through grade 3. Lessons designed for babysitters have been added as well as additional activity sheets, a poison safety checklist and a Poison Ranger certificate, for use with students to recognize their efforts in course completion.
---
Look-alike Flipchart
Based on research conducted with our target audience, we developed a Look-alike Flipchart containing pictures of our look-alike products for use with our poison education programming. Customers suggested a more compact version of our look-alike kits, for easier transportation. Grant funding was secured for this project.
---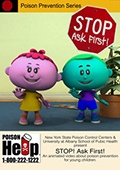 Stop! Ask First!
An exciting poison prevention DVD/VHS for children is geared toward grades K 3. This multimedia animated video features the new first-family of poison prevention, the Toon Family in STOP! Ask First! This entertaining and informative video reinforces the message to always Stop and Ask First before touching, tasting, or smelling anything, especially poisons
Copies are available free of charge, to community educators, teachers and agencies that have taken our train-the-trainer program. To purchase a copy for $10.00 + S&H. To order the video or to schedule poison prevention training for your organization, contact the Public Health Education Coordinator
---
Look-Alike Teaching Kit
Our most effective teaching tool for any age group. The kit features many common poisonous and non-poisonous household items that "look-alike". (E.g., Apple Juice and liquid Spic and Span, mini-marshmallow and mothballs, etc.). The kits include a copy of our "Stop Ask First DVD, Look-alike Flip Chart, Candy or Medicine Shadow Box, Posters and poison prevention materials. The kits are available on loan. Contact the Public Health Education Coordinator at 315 464-5375 to learn more or to reserve a Look-Alike Teaching Kit