SALARY
Annual Residency Stipend is $41,154
Syracuse Costs Less!
The cost of living in Syracuse is very reasonable.
Below is the amount you would need to earn, in 12 cities with major biomedical research centers, to equal the stipend offered at University Hospital.
---
Salary Comparison
If you Earn $41,154
living in Syracuse...
You would need to earn...
$64,414 in Boston
$71,572 in Chicago
$62,314 in Los Angeles
$39,995 in Cleveland
$49,056 in Minneapolis
$44,120 in New Haven
$104,504 in New York City
$45,667 in Philadelphia
$61,416 in San Diego
$81,267 in San Francisco
$55,004 in Seattle
$72,769 in Washington, DC
Content
PGY-1 Pharmacy Residency
A message from PGY-1 Residency Program Director William Darko, PharmD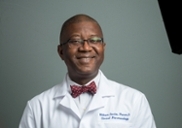 "My goal as a program director is to make sure your residency experience at Upstate University Hospital is second to none. Our dedicated preceptors have trained many pharmacy residents over the years, all of whom have gone on to establish successful careers."
Educational Program Overview
The dynamic PGY-1 pharmacy residency curriculum provides experience in a variety of clinical settings under the guidance of 22 clinical pharmacy faculty members, some of whom were former residents of our program. The faculty also has appointments in Medicine, Emergency Medicine and other affiliated colleges. Residents experience additional patient interaction during their toxicology rotation, which brings them to other area hospitals.
The training experience is built on four week block rotations within a 12-month training period. Orientation is followed by required rotations: Pediatrics, Infectious Diseases, Critical Care, Ambulatory Care and Clinical Toxicology/Emergency Medicine alternating with Internal Medicine rotations. Residents have a choice of one elective rotation which includes Ambulatory Care II, Surgical/Critical Care, Oncology, Pediatrics II, Toxicology II and Surgical Intensive Care.
The Research, Drug Information, Teaching and Pharmacy Administration rotations are longitudinal experiences. This design of the program prepares the PGY-1 pharmacy resident to assume independent clinical practice by the second half of the residency training year. The residents present daily cases at clinical pharmacology rounds which are attended by faculty, pharmacy residents, pharmacy students, medical students, medical residents and pharmacists.
PGY-1 pharmacy residents perform consultative services in clinical pharmacology, clinical pharmacokinetics, and clinical toxicology. During consultations, residents document their assessments and recommendations with the assistance of experienced faculty. Many of our graduates go on to pursue a second-year postgraduate pharmacy residency training, postgraduate fellowship training or clinical and academic teaching positions.
Complementing the clinical experience, the residents have two to three journal club presentations, medication utilization evaluations, formulary drug review and opportunity for publication. Research intensity is driven by residents' desire. Residents also have the opportunity to contribute to the education, co-precept and training of our APPE students. Residents' weekend responsibilities include clinical pharmacokinetics and pharmacy operational services.
Residency Program Highlights
Consultative Clinical Pharmacology
Clinical Pharmacokinetics
Ambulatory Care Pharmacotherapy, Anticoagulation and HIV clinics
Critical Care Pharmacotherapy and Services
Infectious Diseases
Internal Medicine
Pharmacy Administration
Pharmacy Operations
Pediatric Pharmacotherapy and Services
Oncology Pharmacotherapy and Services
Research and Publications
Teaching Experience with Teaching Certification
RESIDENCY SITE: UPSTATE UNIVERSITY HOSPITAL
Upstate University Hospital, the area's only Level-1 trauma center, has a centralized pharmacy distribution paired with numerous satellite offices. The decentralized pharmacy services cover
every patient care area, including the Emergency Department. Upstate University Hospital's downtown campus also houses the Central New York Poison Control Center, which serves 34 counties.
The Poison Control Center is run by PharmD clinical toxicologists and serves as one of our training sites.
SALARY AND BENEFITS
Residents at SUNY Upstate University Hospital receive a competitive stipend for one-year, July 1 to June 30, plus fringe benefits which include health and dental insurance and paid travel for relevant meetings.
Interested candidates should contact Dr. William Darko (darkow@upstate.edu) for more information.