Student Profiles
"I just kept plowing through. We resubmitted it, and it was accepted and published." Meet Jacqualyn Schulman.
Content
Project aims to answer cardiovascular question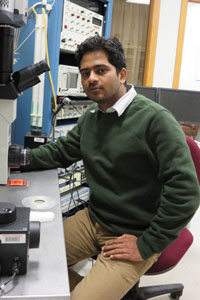 Ever since he was a child growing up in India, Dakshesh Patel has been fascinated with the concept of Pharmacology. How is it, he wondered, that you can swallow a pill and your head or another body part stops hurting?
After earning a master's degree in pharmacology and working as a pharmacist in his native India, Dakshesh came to the United States in 2010 to enroll in Upstate's College of Graduate Studies.
He works in the lab of Principal Investigator Richard Veenstra, PhD, professor of pharmacology. Dakshesh is studying why certain molecules in some drugs used to treat cancer patients can be toxic to the heart.
"It's not clear what the cause is," Dakshesh said. "The goal is to find out why the molecules have an effect on the heart so in the future we can manufacture drugs with no side effects."
Dakshesh is pleased with the training he is receiving at Upstate.
"The Principal Investigators are all prominent in their field. If you look at their CVs, you'll see Stanford, Harvard and Yale," he said. "Dr. Veenstra is very prominent in gap junctions. I go to conferences, and people know him."
The atmosphere at Upstate is congenial, he said, and the university's size is an advantage because students don't need an appointment to see their PIs.
"If you want to do a PhD at Upstate, you're in good hands," he said.