UPCOMING EVENTS
No events, please check back later.
Student Profiles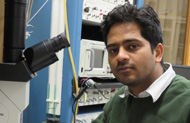 "The goal is to find out why the molecules have an effect on the heart so in the future we can manufacture drugs with no side effects." Meet Dakshesh Patel.
Content
Master's Degree Requirements
A master's degree is offered to students by the Department of Pharmacology. Students will be required to complete 20 didactic credits and 10 research credits.
A written thesis will be prepared by the student based upon data derived from experimentation originating with the student in conjunction with his/her mentor. In addition, upon completion of the Master's thesis, the student will present his/her research at a Department seminar which will be open to the public. This presentation will follow an oral examination by the Thesis Committee.