Welcome to Nursing at Upstate University Hospital
We are the region's only academic medical center serving with most services a 17 county area in upstate New York. Our mission is to improve the health of the communities we serve through education, biomedical research and health care. Due to our tri-fold mission we are able to bring together the latest research with the most current education and translate that into exceptional patient care. In Nursing, we do this by living our mission and by keeping our promise.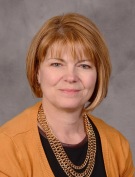 Our Promise is first to our patients—to provide exemplary care to the people of Central New York. We work to achieve this everyday through the integration of shared governance and utilization of our Innovative Care Model. We understand that in order to achieve the best for our patients we need to be at our best. This means we are committed to building a healthy work environment and ongoing development of our staff. Evidence based practice, interdisciplinary collaboration, research, technology, ongoing education of all involved in care, are some of the components we utilize to assist us in our achievements.
They are all tied together by one cohesive and consistent sense of purpose; doing what is in the best interest of the patient this time and every time. We also understand that everyone is connected to another and so by taking care of our families both internal and external we produce better outcomes for our patients. We are dedicated to ongoing improvement because to us this means always striving to exceed our patients and families expectations.
We entered this profession to make a difference, to impact positively on patient's, families, and communities.
We challenge ourselves to always be looking at how to do this better, not just overall improvement and not just reflected in the quality metrics, but measured by looking into the eyes of our individual patients. Did we get it right for this patient, this time? We ask our patients and families as well as our providers and staff to help us identify those areas in which we can improve because no one sees the process in the same way they do and seeing it through their eyes reminds us of why we chose this profession. In order to do this effectively, we need to understand our community and the cultures within the population we serve—we work at this everyday with various outreach programs and by being active participants in our community. We are a reflection of our community and are as rich and diverse in our patient population as we are in our staff.
We entered this profession to make a difference, to impact positively on patient's, families, and communities. This is what "keeping the promise" is all about—taking the moment and making a difference to this patient, this time and every time. As an Upstate nurse, we are committed to staying connected with those roots. We understand that by doing so we produce the best outcomes for all. If you are interested in the challenge and the reward, then find out more about being an Upstate Nurse and Joining Our Team.
Nancy Page, MS, RN
Interim Chief Nursing Officer