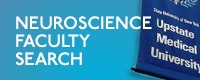 Research Highlights
The Yang Lab
Emotional feeding circuit
---
The Zhu Lab
Studying Neural Stem Cells

---
The Yang Lab
Studying functional role of glia
Read more...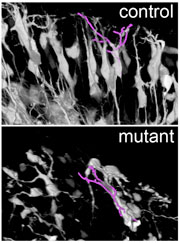 The Eric Olson Lab, in collaboration with the Howell Laboratory, has found that the secreted ligand Reelin promotes both orientation and dendritogenesis of neurons during early cortical development. This response occurs within 4 hr of Reelin application we are exploring the role of additional signaling systems that coordinate the positioning and integration of immature neurons within a forming cortical circuit. In this slide: Aberrant cellular orientation and dendritic growth in Reelin–sigaling deficient mutant compared to control littermate.
Content
Physiology Program Research Faculty
Ruth S Weinstock, MD, PhD
Current Appointments
Hospital Campus
Clinical Section Affiliations
Medicine: Endocrinology, Diabetes and Metabolism
Research Programs and Affiliations
Medicine
Physiology Program
Education & Fellowships
Residency: Presbyterian Hospital, Columbia University, 1983
MD: Columbia University College of Physicians and Surgeons, 1980
PhD: Columbia University, 1978
Clinical Interests
Diabetes mellitus, obesity, lipid disorders and osteoporosis
Research Interests
Diabetes and its complications, lipid disorders, obesity, metabolism, metabolic bones diseases including osteoporosis
Specialties & Certification
Endocrinology, Diabetes and Metabolism
Diseases & Conditions Treated
Diabetes
Diabetic Ketoacidosis
Hypercholesterolemia
Hyperlipidemia
Hyperthyroidism
Hypothyroidism
Lipid Disorders
Metabolic Syndrome
Osteopenia
Osteoporosis
Paget's Disease of Bone
Pituitary Disorders
Pituitary Tumors
Thyroid Disease
Type 1 Diabetes
Type 2 Diabetes
Treats
Treatments/Services
Blood Glucose Test
Bone Density Testing
Diabetes Management
Insulin Pump Education
Intravenous Therapy for Osteoporosis
Intravenous Therapy for Paget's Disease of Bone
Current Hospital Privileges
Upstate University Hospital
HealthLink on Air Radio Interview
Web Resources
Publications
Link to PubMed

(Opens new window. Close the PubMed window to return to this page.)
Research
Our research focuses on the study of new approaches for the prevention and management of type 1 and type 2 diabetes mellitus and its complications. Current projects include:
Participation in the TODAY 2 (Treatment Options for Type 2 Diabetes in Adolescents and Youth follow-up) study, a nationwide observational study following the TODAY cohort to better understand the progression of youth-onset type 2 diabetes including ß-cell function and diabetes-related comorbidities and complications;
Participation in the Preventing Early Renal Loss in Diabetes (PERL) multi-center clinical trial of allopurinol to prevent GFR loss in type 1 diabetes (T1D), with the goal of determining whether lowering uric acid early in the course of kidney disease may be effective in preventing or slowing the decline in renal function in type 1 diabetes;
Investigations of the effectiveness and safety of several new therapeutic agents and devices for the prevention and better treatment of both type 1 and type 2 diabetes mellitus.
Clinical Profile Shortcut: http://www.upstate.edu/findadoc/weinstor
Faculty Profile Shortcut: http://www.upstate.edu/faculty/weinstor