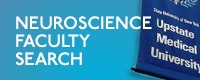 One of many research initiatives in the Matthews' lab focuses on the role of extracellular matrix and cell surface glycoproteins in the developing nervous system and in learning, memory, plasticity and diseases. This slide shows extracellular matrix (ECM) staining on a glioma initiating cell.
Content
Neuroscience Program Faculty
Russell T Matthews, PhD
Current Appointments
Hospital Campus
Research Programs and Affiliations
Biomedical Sciences Program
Neuroscience Program
Neuroscience and Physiology
Physiology Program
Education & Fellowships
PhD: Yale University, 2001, Neurobiology
Research Interests
Role of glycoproteins in oncogenesis and brain development
Publications
Link to PubMed

(Opens new window. Close the PubMed window to return to this page.)
Research
Understanding the roles of Extracellular Matrix Molecules and Cell-Surface Glycoproteins in Brain Development and Disease
The extracellular environment in the central nervous system plays critical roles in all stages of development and in learning and memory in the adult nervous system. Alteration or disruption of this neural extracellular environment can have devastating functional consequences and is implicated in a vast array of neural pathologies and in neural injury. Research in the Matthews laboratory is focused on identifying the cell-surface glycoconjugates and extracellular matrix molecules that comprise the neural extracellular space and understanding their roles in the developing nervous system and in neural pathologies and neural trauma. Work from my lab has uncovered the roles of a family of glycoproteins in the establishment and maintenance of the precise connectivity in the central nervous system and we continue to work towards understanding the functional roles of these molecules in learning and memory. Our work has demonstrated the heterogeneous nature of the molecules in the brain and the disruption of these structures with sensory deprivation. In addition, our work has demonstrated that some of the same molecules that are important for central nervous system development, are also disrupted and modified in neuropathologies such as glioma and play an important role in the progression of these diseases. The overarching goal of the work in my laboratory is to identify the molecular substrates of development and disease in the mammalian CNS.
Selected Publications:
1. Matthews, R. T., G. M. Kelly, C. Zerillo, G. Gray, M. Tiemeyer and S. Hockfield. 2002. Aggrecan gycoforms contribute to the heterogeneity of perineuronal nets.
Journal of Neuroscience
. 2002. 22: 7536-7547.
2. Matthews, R.T., C. Lander and S. Hockfield. The Extracellular matrix of the peripheral and central nervous system. In:
The Encyclopedia of Neuroscience
, 3rd Edition. Adelman, G. and Smith, B. H. Amsterdam: Elsevier Science. 2004.
3. Viapiano M. S., Matthews R. T., From barriers to bridges: chondroitin sulfate proteoglycans in neuropathology.
Trends Mol Med
. 2006 Oct;12(10):488-496.
4. Dino M. R., Harroch S., Hockfield S., Matthews R. T. Monoclonal antibody Cat-315 detects a glycoform of receptor protein tyrosine phosphatase beta/phosphacan early in CNS development that localizes to extrasynaptic sites prior to synapse formation.
Neuroscience
. 2006. 142(4):1055-69.
Faculty Profile Shortcut: http://www.upstate.edu/faculty/matthewr
---
Additional Collaborators
Paul Gold, PhD
Professor, Biology (Syracuse University)


Research Interests:

Aging, Cell Signaling and Communication, Learning, Memory, and Plasticity, Neurological and Psychiatric Conditions.
James Hewett, PhD
Associate Professor, Biology (Syracuse University)


Research Interests:

Neuroscience and Central Nervous System Neurobiology and Pathology: Neuromodulators and Epilepsy: Arachidonic Acid Metabolism and Cyclooxygenase-2: Cytokines and Interleukin-1beta: Signal Transduction and Gene Expression.
Sandra Hewett, PhD
Professor, Neuroscience, Biology (Syracuse University)


Research Interests:

Mechanisms underlying cell death in the central nervous system: the interplay between excitotoxicity and inflammation.
Donna Korol, PhD
Associate Professor, Biology (Syracuse University)


Research Interests:

Neural mechanisms of learning and memory across the lifespan.
Katharine (Kate) Lewis, PhD
Associate Professor, Biology (Syracuse University)


Research Interests:

Specification and patterning of spinal cord interneurons; Formation of functional neuronal circuitry; Evolution of spinal cord patterning and function; Dorsal-ventral neural tube patterning; zebrafish development.