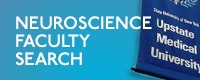 Research Highlights
The Yang Lab
Emotional feeding circuit
---
The Zhu Lab
Studying Neural Stem Cells

---
The Yang Lab
Studying functional role of glia
Read more...
One of many research initiatives in the Matthews' lab focuses on the role of extracellular matrix and cell surface glycoproteins in the developing nervous system and in learning, memory, plasticity and diseases. This slide shows extracellular matrix (ECM) staining on a glioma initiating cell.
Content
Neuroscience Program Faculty
Wendy R Kates, PhD
Current Appointments
Hospital Campus
Research Programs and Affiliations
Biomedical Sciences Program
Center for Psychiatric Neuroimaging
Medical Genetics Research Center
Neuroscience Program
Psychiatry and Behavioral Sciences
Education & Fellowships
BS: University of Chicago
PhD: University of Chicago
Research Interests
My lab studies brain development and brain function in individuals with genetic disorders. The main focus of our work is on a genetic disorder called 22q11.2 Deletion Syndrome (22q11DS). Individuals with 22q11DS are at a 25-fold greater risk for developing schizophrenia than individuals in the general population. We examine the effects of genetic mutation, brain development, and neuropsychological function in youth with this disorder, in order to identify the factors that place youth at highest risk for developing schizophrenia. Eventually, our research may allow us to identify and provide early interventions to youth at high risk for schizophrenia, potentially easing the huge toll that schizophrenia takes on families. Another focus of our work is to determine the effectiveness of computer-based, on-line, cognitive interventions in youth with genetically based intellectual disorders. Our hope is that by demonstrating the effectiveness of on-line, cognitive interventions, we can reach and benefit many youth who may not have access to centers that are providing such interventions in person.
Web Resources
Publications
Link to PubMed

(Opens new window. Close the PubMed window to return to this page.)
Research
Our laboratory studies the brain and behavioral development of children with velocardiofacial syndrome (VCFS). VCFS is caused by a microdeletion in the long arm of chromosome 22 (22q.11) and is associated with craniofacial anomalies, cardiac defects, learning disabilities, and psychiatric disorders. Up to 30% of adults with VCFS develop schizophrenia or bipolar disorder. Study participants are administered a battery of neuropsychological and psychiatric testing, smooth pursuit eye tracking tasks, as well as a brain MRI scan. Subjects are evaluated at Time 1 and again three years later, at Time 2. Our aim is to determine 1) the phenomenology and natural history of child psychiatric disorders in children and adolescents with VCFS, and 2) whether abnormalities in brain morphology and putative biomarkers of schizophrenia or bipolar disorder (which include eye tracking performance, sustained attention, and working memory), are present and co-occur in children and adolescents with VCFS. Ultimately, we hope to determine whether subjects who display brain abnormalities and putative biomarkers for schizophrenia and bipolar disorder deteriorate in adaptive/psychosocial function or mood regulation between Time 1 and Time 2.
Faculty Profile Shortcut: http://www.upstate.edu/faculty/katesw
---
Additional Collaborators
Paul Gold, PhD
Professor, Biology (Syracuse University)


Research Interests:

Aging, Cell Signaling and Communication, Learning, Memory, and Plasticity, Neurological and Psychiatric Conditions.
James Hewett, PhD
Associate Professor, Biology (Syracuse University)


Research Interests:

Neuroscience and Central Nervous System Neurobiology and Pathology: Neuromodulators and Epilepsy: Arachidonic Acid Metabolism and Cyclooxygenase-2: Cytokines and Interleukin-1beta: Signal Transduction and Gene Expression.
Sandra Hewett, PhD
Professor, Neuroscience, Biology (Syracuse University)


Research Interests:

Mechanisms underlying cell death in the central nervous system: the interplay between excitotoxicity and inflammation.
Donna Korol, PhD
Associate Professor, Biology (Syracuse University)


Research Interests:

Neural mechanisms of learning and memory across the lifespan.
Katharine (Kate) Lewis, PhD
Associate Professor, Biology (Syracuse University)


Research Interests:

Specification and patterning of spinal cord interneurons; Formation of functional neuronal circuitry; Evolution of spinal cord patterning and function; Dorsal-ventral neural tube patterning; zebrafish development.