DIRECTOR'S MESSAGE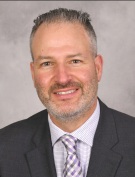 Stephen J. Knohl, MD
Program Director

Welcome to SUNY Upstate Medical University's Internal Medicine Residency Training Program. Read more...
Content
Campus and Beyond
This section is designed to help you navigate the Upstate campus as well as the Upstate New York area in general.
The Visitor's Guide includes a section for patients and hospital visitors, a section for students and academic visitors, and general information on food, lodging, ATM locations, etc. We hope this guide helps you learn your way around Upstate Medical University!
Upstate Medical University's campus spans from our hospital and clinical facilities, to academic and research facilities, to residential and campus activity facilities. In Building Locations & Directions, you can visit each location and find addresses and Google maps of each location.
You can find specific information on driving and parking on Visitor Parking. This also includes a link to the Parking Office and provides information on Upstate Medical University's rates and policies.
Visit About Syracuse and Central New York to learn about the area. Here you will find links to local venues and events! Take the time to browse around and learn about all Syracuse and Central New York has to offer.