MESSAGE FROM OUR DIRECTORS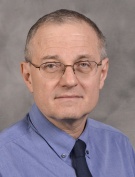 Andras Perl, MD, PhD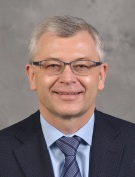 Leszek Kotula, MD, PhD
Our MD/PhD Program at SUNY Upstate Medical University is committed to providing exceptional training in both clinical medicine and basic scientific investigation to prepare you for an exciting career as a physician-scientist. Read More...
Content
Alumni
Graduates of Upstate's MD/PhD program have found success as physician-scientists in prestigious academic medical centers and hospitals. Here are two of our graduates, and an accompanying list of MD/PhD graduates from the past few years who have gone on to residencies and fellowships.
2015 Graduates
Adeseye Adekeye
North Dakota
Surgical Resident
Samuel Mackenzie
University of Michigan
Pediatric Neurology Resident
Eric Wohlford
University of California, San Diego
Pediatric Resident
2014 Graduates
Ivayla Geneva
Upstate Medical University
Internal Medicine Resident 
Petya Radoeva
University of Washington
Psychiatry Resident
Tiffany Caza (Telarico)
Upstate Medical University
Pathology Resident
2013 Graduates
Rene Choi
Moran Eye Center - University of Utah
Opthamology Resident
Jacqueline Guterman

Detroit Medical Center- Wayne State
OB/GYN Resident
2012 Graduates
Adam Matthew Gerber
NYP Hospital-Columbia University Medical Center
Anesthesiology Resident
Dissertation: Cerebellar Granule Cell Culture As A Model to Examine Glutamate Signaling During CNS Development

Steven D. Hicks
SUNY Upstate Medical University
Assistant Professor, PennState 
Dissertation:Ethanol Affects the Balance Between Neural Stem Cell Proliferation and Survival, Initiating the p53-Dependent DNA Damage Response
David J. Lubin
SUNY Upstate Medical University
Diagnostic Radiology Resident, SUNY Upstate Medical University 

Dissertation: Oligomerization and the Effects on Folding of p53
Yung Lyou
UC Irvine Medical Center- CA
Internal Medicine Resident
Dissertation: How to Build an Eye: Identification of the EFTF Targets Driving Eye Field Specification
Akos T. Mersich
U Colorado SOM- Denver
Psychiatry Resident
Dissertation: The Role of Formins in Macrophage Adhesion
Anna J. Nichols
Clinical Instructor of Dermatology, University of Miami 
Dissertation: Splitting the Preplate: Redefining the Neuronal Response to Reelin During Early Cortical Development
2011 Graduate
George Christophi - Barnes-Jewish Hospital / Washington University School of Medicine
Gastroenterology Fellow 

2010 Graduates
2010 Graduates
David R. Fernández - NewYork-Presbyterian/Weill Cornell Medical Center
Rheumatologist 
Christopher C. Griffith - Emory University 
Assistant Professor of Pathology
Chad A. Hudson - Hemapathology Fellow, University of Rochester 
Rebecca Lynn Lewandowski - University of Rochester Strong Memorial Hospital, Cardiology Fellow 
Masashi Ohira - University at Buffalo / The State University of New York
Clinical Instructor of Family Medicine 
Jeffrey Peter Ward - Barnes-Jewish Hospital / Washington University School of Medicine
Instructor, Department of Medicine 
Anna Nichols,
MD, PhD
Anna Nichols
(MD/PhD Class of '12)
With two years of medical school and a doctorate from Upstate already on her resume, MD/PhD student Anna Nichols has transitioned to the final two clinical years of the program.
Nichols will earn a dual MD/PhD degree, and start on a career that she hopes will "strike a balance" between research and clinical practice.
Steve Hicks
(MD/PhD Class of '12)
Steve Hicks, MD, PhD
I'm a pediatric resident here at Upstate, where I've already had the pleasure of working with some of the current MDPhD students during their clerkship rotations. I chose to stay here because of the beautiful facilities at the children's hospital, the amazing pediatric faculty, and because I have grown to love Syracuse and Upstate NY.
Residency exponentially expands clinical knowledge through a process of total immersion (i.e. 80 hours a week in the hospital). This is tolerable as long as you choose a field you love and are working with great colleagues. What I did not fully appreciate as a medical student is that learning outside the hospital continues in residency. The ACGME requires residents complete a number of learning activities including weekly lecture videos and quizzes, frequent oral presentations, and yearly In-Service Training Exams. All this makes it very difficult to incorporate research into your daily activities. So before starting residency I made sure to lay the groundwork for two research projects that I am actively continuing during residency. The first is a biomarker study with Dr. Frank Middleton (Department of Neuroscience) examining the correlation of lymphocyte mRNA expression with measures of CNS anatomical and functional degeneration in adults with alcohol use disorders (Title: Evaluation of cell proliferation, apoptosis, and DNA-repair genes as potential biomarkers for ethanol-induced CNS alterations, accepted for publication in BMC neuroscience). The second study is a clinical study of exosomal miRNA expression in the serum of children with autism spectrum disorder. I was able to write the IRB protocol and secure funding for this study myself, which was a gratifying and valuable learning experience. All this goes to show that juggling clinical work and research is possible during residency. Residency may seem far away as an MDPhD student, but it comes quicker than you might think.
Yung Lyou, MD, PhD
Yung Lyou
"In addition to my primary investigator, I've had several other mentors," said Yung Lyou, who studies genetic eye disorders.
"By collaborating with Frank Middleton, PhD, our Microarray core facility director, I've been able to run screens on thousands of genes at one time. That's interdisciplinary. I was also able to take a two-week course at Cold Spring Harbor Laboratory on Long Island, so that I could learn other techniques to help me in my research here."
Melinda Tyler,
MD, PhD
Melinda Tyler
Melinda Tyler earned her MD/PhD from Upstate in 2009, and will soon begin a residency in Psychiatry at the UCSF Fresno.
"I feel really lucky to have been given the chance to learn how to carry out basic science research while being paid at the same time," Tyler said. "I couldn't have done it otherwise." MD/PhD graduates also increase their career options. According to the Association of American Medical Colleges, only 3 percent of all medical school graduates in 2006 received the dual degree.
Paul Kent, MD, PhD
Paul Kent, MD, PhD
"The MD/PhD degree opens up a wealth of opportunities," said Paul Kent, the first student (in 1990) to earn the dual degree from SUNY Upstate.
"There are opportunities in academic medicine that are not always available to pure MDs," said Kent, an associate professor of neurology at Upstate. "It's hard to do basic science with just the MD. You can do clinical trials, but it's difficult to do basic science research."
Craig E. Grossman, MD, PhD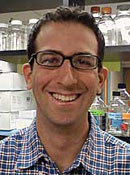 Craig Grossman,
MD, PhD
"I want to be a doctor because I enjoy science, helping others and problem-solving," I said when I entered college as a biology major.
Flash forward to 1997, as I sat in a chair at SUNY Upstate Medical University, trying to justify why I should be offered a residency position.
"I am interested in not only using current treatment modalities to eradicate disease as a practicing clinician, but also searching for the mechanisms for how and why the human body goes awry," I emphatically proclaimed.