Think Green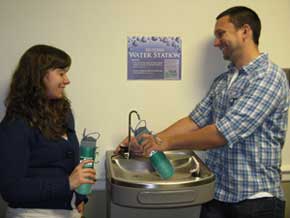 New filtered water stations are popping up all over campus. Lauren Wood, a PhD student in Microbiology & Immunology, and Eric Miller, a technician in the Department of Cell & Developmental Biology, fill their reusable water bottles from the "gooseneck" feature on the new units. Reusable water bottles with the Upstate Think Green logo will be sold on campus.
Details >

Filtered Water on Campus
Filtered water is flowing through a growing number of drinking fountains on the Upstate campus.
Physical Plant crews have been installing new water stations that deliver filtered water from a standard drinking spout and a vertical "gooseneck" element for filling reusable bottles.
The new units are being installed in 10 buildings that previously did not have filtered water. University Hospital, the Weiskotten Hall Addition and the Gamma Knife Center already have filtered water.
"In various locations around campus we are trying to provide sources of water equal to what is supplied by bottled water," said Gary Kittell, Physical Plant director. "The intent is to have water fountains with appropriate filtering systems in a limited number of locations in each campus building, to demonstrate their effectiveness and test customer satisfaction."
The filtered water stations are identifiable by their distinctive gooseneck feature and by signs sporting the Upstate "Think Green" logo.
If the new filtered water stations prove to be popular, additional units may be installed in various buildings, Kittell said.
A sophisticated filtration system has been in place for many years in University Hospital and was updated in 2004. The Weiskotten Hall Addition's existing filtration system was improved that year as well. The Gamma Knife Center has had filtered water since it opened in 1998.
Each new water station contains a carbon filter that reduces or removes odors and contaminants, and meets national standards for health and aesthetics.
The water stations are part of the Upstate "Think Green" sustainability initiative, and help to support compliance with the Governor's Executive Order to halt the purchase of bottled water with state funds.
Filtered Water Locations and Standards >
Upstate's initiative to eliminate the use of bottled water to save money and reduce waste across the campus was recently highlighted in a syracuse.com article.
Check it out >.

...every nickel counts! Before you toss that returnable soda or water bottle into any other bin on campus, look for specially marked receptacles featuring the 5-cent bottle sticker.

Read more...
Climate Action Plan
In 2009, Upstate president David R. Smith, MD signed the American College and University Presidents' Climate Commitment (ACUPCC), committing the university to become "carbon neutral" by 2050.
Upstate submitted its first Greenhouse Gas Emissions Inventory in 2010, and began work on a Climate Action Plan

that was completed and submitted to the ACUPCC in May 2011.