...if lined up end-to-end, the K-cup coffee pods sold in 2014 would encircle the equator 12.4 times!
K-cup Landfill
Content
The Library Sustainability Initiative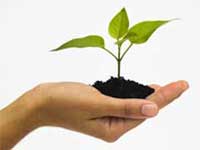 The Health Sciences Library at Upstate Medical University has begun leading the way in energy conservation and investigating every possible way it finds to provide a green environment.
Computers have been programmed to lower their energy demands, thermostats have been adjusted to provide the right balance of hot and cold (we're still looking for that magic number), rooms not used on a daily basis are no longer "turned on" every day, and all the staff is invited to do their part in finding addition ways the library can live the green lifestyle. Here are some details:
Computers and Printers
All computers in public areas have been programmed to go into sleep or power-save mode after 20 minutes of inactivity. This reduces electrical consumption from 100% down to 10%.
Staff are powering down their personal computers nights and weekends.
The Library is closing computer classrooms during the summer when the students are not here.
Printers with double sided printing capability are being made more accessible.
Equipment
The 4 copiers in the Library have the power save mode enabled.
Staff questioned if the coffee machine on the main floor of the lobby can be eliminated now that there is full vending next to the new lounge by the West entrance to Weiskotten.
Temperature Controls
Thermostats will be lowered to 74 degrees (summertime).
Areas of Use and Hours
Computer rooms are closing during the summer months and their computers shut down.
Staff work rooms are being reviewed to ensure their light switches have motion sensors so they turn off automatically when no one is there.
Lighting
The "Saucer" lights in the main atrium were originally equipped with 300 watt halogen bulbs. Compact fluorescent bulbs at 26 watts have been installed but lighting quality is poor. Now 10 Watt LEDs are being tested.The Library's scheduled hours of operation amount to 5,586 hours per year not counting the time cleaning staff are working. A single 300 watt bulb consumes 1,676 kilowatt hours during that period, costs nearly $170 per year in electricity resulting in 2883 pounds of carbon dioxide emissions from the generator plant that supplied the electricity. A 10-Watt LED in contrast uses 56 kilowatt hours, cost $6 to operate and causes 96 pounds of carbon dioxide to be emitted.
Exit lights will be replaced with LED exit lights. Changing just one regular exit light to an LED based light saves 254 kilowatt hours per year, $25.4 in electricity and eliminates 433 pounds of carbon dioxide emissions to the environment.
Stair sconce lights will be investigated for replacement of their internal bulbs with an LED.
Ceiling down lights with two fluorescent bulbs in Rooms 314 and 313 will be reduced to one bulb to judge their effectiveness as another possible source of savings.