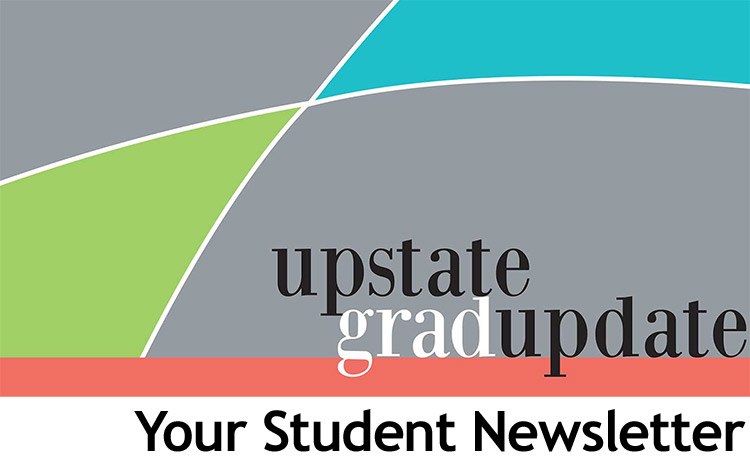 Student Publications
The following are recent first-author publications in books and professional journals by Upstate students. Doctoral students in the College of Graduate Studies who finished from 2007 to 2012 published on average 3.8 publications (with 2.2 being first author) that are indexed on Pub Med. These publications have been cited 23.6 times on average.
2015
2014
Adeseye Adekeye et al. Ablation of the proapoptotic genes chop or ask1 does not prevent or delay loss of visual function in a P23H transgenic mouse model of retinitis pigmentosa. PLoS One;9(2):e83871 (2014).
Dimitra Aggeli et al. Coordination of the filament stabilizing versus destabilizing activities of cofilin through its secondary binding site on actin.   Cytoskeleton 71(6):361-79 (2014).
Hajime Akada et al. Critical role of Jak2 in the maintenance and function of adult hematopoietic stem cells. Stem Cells 32(7):1878-89 (2014).
Hajime Akada et al. Loss of wild-type Jak2 allele enhances myeloid cell expansion and accelerates myelofibrosis in Jak2V617F knock-in mice. Leukemia 28(8):1627-35 (2014). 
*X. Yu , *Adam R. Blanden et al.  [*These authors contributed equally to this work ] Small molecule restoration of wildtype structure and function of mutant p53 using a novel zinc-metallochaperone based mechanism . Oncotarget  5(19):8879-92 (2014).
Tiffany Caza et al. Interplay of Infections, Autoimmunity, and Immunosuppression in Systemic Lupus Erythematosus . Int Rev Immunol. 33(4):330-63 (2014). 
Tiffany N. Caza et al. HRES-1/Rab4-mediated depletion of Drp1 impairs mitochondrial homeostasis and represents a target for treatment in SLE. Annals of Rheumatic Disease 73(10):1888-97 (2014).
Chandrav De et al.  β-l-1-[5-((E-2-bromovinyl)-2-(hydroxymethyl)-1,3-(dioxolan-4-yl)] uracil (l-BHDU) prevents varicella-zoster virus replication in a SCID-Hu mouse model and does not interfere with 5-fluorouracil catabolism . Antiviral Res. 110C:10-19 (2014).
Paurav Desai et al. Chlamydomonas axonemal dynein assembly locus ODA8 encodes a conserved flagellar protein needed for cytoplasmic maturation of outer dynein arm complexes.  Cytoskeleton 72(1):16-28 (2014)
Edward Doherty et al. Increased mitochondrial electron transport chain activity at complex I is regulated by N-acetylcystein in lymphocytes of patients with systemic lupus erythematosus. Antioxid Redox Signal.  21(1):56-65 (2014).
Miriam L. Donohue et al. Is in vivo manual palpation for thoracic pedicle screw instrumentation reliable? J Neurosurg Spine 20(5):492-6 (2014). 
Chrissa Dwyer et al.  Brevican knockdown reduces late-stage glioma tumor aggressiveness .  J Neurooncol. 120(1):63-72 (2014).
Chinaza Egbuta et al.  Mechanism of Inhibition of Estrogen Biosynthesis by Azole Fungicides .  Endocrinology 155(12):4622-8 (2014).
Karen Howard et al. The Distribution of Implant Fixation for Femoral Components of TKA: A Postmortem Retrieval Study . J Arthroplasty 29(9):1863-70 (2014).
Cherry Ignacio et al. Effects of acute prenatal exposure to ethanol on microRNA expression are ameliorated by social enrichment. Frontiers in Pediatrics 2:103 (2014).
Sonia Iyer et al. SHIP1 regulates MSC numbers and their osteolineage commitment by limiting induction of the PI3K/Akt/βcatenin/Id2 axis . Stem Cells Dev. 23(19):2336-51, 2014.
Sonia Iyer et al.  SHIP1-expressing mesenchymal stem cell regulate hematopoietic stem cell homeostasis and lineage choice during aging .  Stem Cells Dev. 24(9):1073-81 (2014).
Lingyan Jiang et al. Mitotic arrest by tumor suppressor RASSF1A is regulated via CHK1 phosphorylation. Mol Cancer Res. 12(1):119-29 (2014).
Sheena Claire Li et al. The signaling lipid PI(3,5)P2 stabilizes V1-Vo sector interactions and activates the V-ATPase. Mol Biol Cell. 25(8):1251-62 (2014).
Samuel J. Mackenzie et al. Innervation and function of rat tail muscles for modeling cauda equina injury and repair . Muscle Nerve 52(1):94-102 (2015).
Nicole Mantella and S. Youngentob.  Prenatal alcohol exposure increases postnatal acceptability of nicotine odor and taste in adolescent rats.   PLoS One 9(7) (2014).
Zachary Oaks and A. Perl.  Metabolic control of the epigenome in systemic Lupus erythematosus .  Autoimmunity 47(4):256-64 (2014).
Jessica Ouderkirk and M. Krendel. Myosin 1e is a component of the invadosome core that contributes to regulation of invadosome dynamics. Exp Cell Res. 322(2):265-76 (2014). 
Jessica Ouderkirk and M. Krendel.  Non-muscle myosins in tumor progression, cancer cell invasion, and metastasis.   Cytoskeleton 71(8):447-63 (2014).
Dakshesh Patel et al. Atrial fibrillation-associated Connexin40 mutants make hemichannels and synergistically form gap junction channels with novel properties. FEBS Lett.

588(8):1458-64

(2014). 
Jie Peng et al.  Analysis of ssDNA Gaps and DSBs in Genetically Unstable Yeast Cultures .  Methods Mol Biol. 1170:501-15 (2014).
Jie Peng et al.  Analysis of replication timing using synchronized budding yeast cultures . Methods Mol Biol. 1170:477-99 (2014).
Petya D. Radoeva et al. Association between autism spectrum disorder in individuals with velocardiofacial (22q11.2 deletion) syndrome and PRODH and COMT genotypes. Psychiatr Genet. 24(6):269-72 (2014).
Elizabeth M. Samuelson et al. Reduced B Lymphoid Kinase (Blk) Expression Enhances Proinflammatory Cytokine Production and Induces Nephrosis in C57BL/6-lpr/lpr Mice. PLoS One ;9(3):e92054 (2014).
Naman B. Shah and T.M. Duncan. Bio-layer Interferometry for Measuring Kinetics of Protein-protein Interactions and Allosteric Ligand Effects. J Vis Exp. Feb 18;(84) (2014).
Stephen Shinsky et al. A non-active site SET domain surface crucial for the interaction of MLL1 and the RbBP5-ASH2L heterodimer within MLL family core complexes. J Mol Biol. 426(12):2283-99 (2014)
Qing Sun et al. Lappaol f, a novel anticancer agent isolated from plant arctium lappa L . Mol Cancer Ther. 13(1):49-59 (2014).
Jennifer White et al.  Localization of sarcomeric proteins during myofibril assembly in cultured mouse primary skeletal myotubes .  Anat Rec 297(9):1571-84 (2014).
Duncan B. Wormer et al. The Focal Adhesion-Localized CdGAP Regulates Matrix Rigidity Sensing and Durotaxis. PLoS One 9(3):e91815 (2014).
Huimei Zheng et al.  Converting a Binding Protein into a Biosensing Conformational Switch Using Protein Fragment Exchange .  Biochemistry 53(34):5505-14 (2014).