Why geriatric medicine has become an individual department
HealthLink On Air Listen to the interview >
Elder care the focus of new department at Upstate University Hospital
Starting this month, geriatrics becomes its own clinical department at Upstate University Hospital in Syracuse. The change reflects a societal change with more and more older people needing specific attention.
Geriatrics had part of the Department of Medicine. This move puts it on the same level as other specialties, such as Surgery, Psychiatry and Neurology. Upstate Geriatrician Dr. Sharon Brangman will be the new department's inaugural chair, and said the new department will change the way older patients are cared for.
"What you will see is an elevation in the care received by older adults," said Brangman. "And that's what we are planning to do over time as we increase the number of people we recruit, to provide the care.  We also want to increase the people who can do the teaching to the next generation of health care workers, and increase the people who are doing research, so we know what we are doing is based in evidence."
She said this means the hospital will sharpen its focus on issues that affect the elderly from teaching new doctors to clinical care.
"Certain medications that are given, the doses may be changed. The indications may be different in older people," said Brangman. "The decision to perform a procedure or not, has to be taken into the context of the patients age and their medical problems and the support they have at home.  And if our goal is to try to keep people as functional for as long as possible, we have to look at all these aspects of care. And there are distinct sets of skills in geriatrics that lets us do that."
Upstate will be one of only a handful of hospitals nationwide with a Geriatrics Department. Statistics show 15 percent of the U.S. population is currently 65 and older, and according to the National Council on Aging, 92 percent have at least one chronic disease, while 77 percent have two.
---
Living a Longer, Healthy Life
- 55Plus, Aug/Sep. Issue 2015
---
Alzheimer's segment on WCNY - Cycle of Health
- WCNYConnected

, February 4, 2014; With Richard O'Neill, PhD
---
Obesity linked to mobility problems in older women
- NBC News, November 15, 2013
---
Why Am I Making So Many Pit Stops?
- The New York Times, January 24, 2013
---
Sharon A. Brangman, M.D.
- February 4, 2012
"Preparing for the Dementia Tsunami"
Sharon A. Brangman, MD, Professor of Medicine and Division Chief of Geriatrics at Upstate Medical University in Syracuse, NY is participating in TEDMED's 20 Great Challenges of Health and Medicine. Dr. Brangman answers a series of questions on "Preparing for the Dementia Tsunami Part 2 of 10".
View the series on our conferences page
---
Falls Safety Tips:
- Grandparents.com
---
10 Dedicated and Deserving Social Workers
- Social Work Today, January/February 2012 issue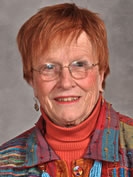 Nancy Calhoun, LMSW
Retired Social Worker for SUNY Upstate Medical University, University Hospital in Syracuse, NY
Years ago, Nancy Calhoun became a single parent and needed to pursue a new career. Her next-door neighbor, who was the dean of Syracuse University's School of Human Development, suggested pursuing an MSW because it could be the "key to multiple careers."
Calhoun says that's exactly what social work has been for her, and since obtaining her degree, she's used it for service, teaching, applied research, advocacy, and counseling. Now retired, Calhoun provided decades of dedication to the social work field and says if it weren't for her current battle against breast cancer, she'd be doing even more.
Though she's held various positions, for the last 15 years, Calhoun worked at SUNY Upstate Medical University, providing care to older adults with dementia and supporting their caregivers. She says she's become accustomed to looking at the big picture and always asking herself, "How can I make this happen?" She never gets discouraged and is always looking for solutions. In fact, Calhoun says that even today the "ideas are there, just not the energy to follow through," as she fights cancer.
Along the way, Calhoun has taught and developed a gerontology curriculum and a course on aging. "I taught until I realized I was approaching the aging population myself," she says while laughing. "I always saw myself as the link between the younger generation of up-and-coming social workers and the older generation, but once I realized I was part of the latter group, I decided that wasn't the role I wanted. I was no longer the middle-aged person that could interpret for both groups." Calhoun says that even in retirement, she can't stop herself from always looking for a solution. That's the life-long social worker in her.
"There's always a way through a problem. I'm an eternal optimist," she says. "Along with that, I have the ability not to dwell on the things that don't turn out so well. I can move on and accept the next challenge. That's part of how I live my life. If it weren't for my health situation, I'd be out there now. But I'll never stop looking around and seeing opportunities to help."
---
Depression or Dementia
- September 14, 2010, 5:00-6:00 pm
Spend an innovative hour with Dr. Brangman discussing the difference between depression and dementia.
---
Alzheimer's and Exercise
- syracuse.com, August 10, 2010
A New Charge for Upstate University's Dr. Sharon A. Brangman and Syracuse University's Stefan Keslacy. Read how you can make a difference and participate in this study.
---
Geriatricians: Preserving Life
- CBSNews, July 25, 2010
John Blackstone, CBS-TV News, reports on the professional lives of geriatricians who specialize in the complex needs and primary care required by the elderly.
Featuring Drs. Brangman and McCloud.
---
Dr. Brangman Becoming President-Elect of American Geriatrics Society
- May 11, 2009
Sharon A. Brangman MD, Division Chief, is the new President-Elect of the American Geriatrics Society

The American Geriatrics Society also named a new President-Elect and new Board of Directors and committee members today: Sharon Brangman, MD, FACP, AGSF, professor of medicine and division chief of geriatrics at the State University of New York (SUNY) Upstate Medical University in Syracuse, was named President-Elect of the AGS. Dr. Brangman is director of the Central New York Alzheimer's Disease Assistance Center; an attending physician at James Square Health and Rehabilitation Centre; and Medical Director of Greenpoint/The Hearth Senior Living Communities in Syracuse.
---
NewsWatch
- USA Today, June 6, 2006
- USA Today, June 6, 2006
---
Lifting the "Silver Ceiling"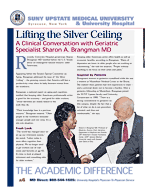 Recently, University Hospital geriatrician Sharon Brangman MD testified before the U.S. Senate about an endangered natural resource: older Americans. Appearing before the Senate's Special Committee on Aging, Brangman addressed the issue of "the Silver Ceiling"-the growing concern that America will face a productivity crisis when its baby boomers retreat from the workforce
---
NewsWatch
-Washington Post, November 1, 2005:
---
Staying Physically Active
- The AP story has appeared in dozens of media outlets and on news websites, including CNN.com, MSNBC.com, FOX News.com, July 11, 2005
Bush's 59th Birthday reminds boomers to take stock of health. Sharon Brangman, MD., is quoted in an Associated Press story on the need for older Americans to be physically active. The story comes in advance of President Bush's 59 birthday Wednesday. Brangman notes that older adults need to make exercise part of their daily routine, like brushing teeth and combing hair.