Content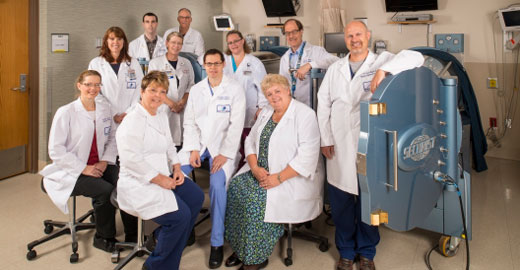 Hyperbaric Medicine Services
Hyperbaric Medicine
Upstate University Hospital - Downtown Campus
Rm. 1528, 750 East Adams Street
Syracuse, NY 13210
Map & directions
Phone:
315 464-4910
Fax:
315 464-1538
Hours:
7:30 AM - 4:00 PM
University Hospital has the only accredited, hospital-based Hyperbaric Oxygen Therapy unit in Central New York, as well as the first accredited hyperbaric program in the State of New York.
About Hyperbaric Oxygen Therapy
Through the use of a special chamber that increases atmospheric pressure, hyperbaric oxygen therapy delivers 100 percent oxygen throughout the entire body. The increased level of oxygen enters the blood and body tissues to promote healing.
Hyperbaric oxygen therapy was initially used to treat deep-sea divers with decompression sickness known as "the bends." However, over the past few decades, the role of this unique therapy has expanded to include the treatment of a number of other medical conditions, particularly those that do not respond to other therapies.
Conditions We Treat
Chronic non-healing wounds, including diabetic foot ulcers
Late effect injuries from radiation therapy
Carbon monoxide poisoning
Decompression sickness
Air or gas embolism
Acute anaerobic infections
Skin grafts and flaps
Severe crush injuries
Exceptional blood loss anemia (when religious beliefs or an inability to cross-match blood make transfusion impractical)
From time to time there are claims that hyperbaric oxygen therapy is being used to successfully treat a number of other medical conditions. However, there is little or no clinical evidence to support these claims. At University Hospital we adhere strictly to treating only the conditions approved by the Undersea and Hyperbaric Medical Society (UHMS). The list is reviewed every two years. UHMS, whose mission is to promote sound treatment protocols and standards of practice, is recognized worldwide as the primary source of information on hyperbaric medicine.
Our Expert Clinicians
The staff of the Hyperbaric Oxygen Therapy unit are nationally recognized for their skill and experience. In addition to many years of practice in the specialty of hyperbaric medicine, they have experience in emergency and critical care medicine. Members of our staff frequently provide advice to other hyperbaric oxygen therapy centers and are also involved in extensive community education activities on carbon monoxide poisoning.
Marvin Heyboer III, MD, the physician director, is board certified by the subspecialty of Undersea and Hyperbaric Medical Society. Members of our staff are involved in research in the field of hyperbaric oxygen therapy and have published clinical evaluation data for the past 10 years.
Our expertise in hyperbaric medicine is acknowledged by the fact that administrators of the federal Medicare and Medicaid programs consider the Hyperbaric Medicine program at University Hospital to be a model for other facilities in the United States. Equally importantly, our unit is very highly regarded by our patients and their families and consistently scores in the top percentile in patient satisfaction surveys.
The Hospital Advantage
University Hospital has the first Hyperbaric Oxygen Therapy Unit accredited by the UHMS in New York State as well as the first Unit receiving this accreditation with distinction. The unit is available 24 hours a day, seven days a week, to care for medical emergencies.
Since we are a hospital-based unit, in the unlikely event of a problem during treatment, it is reassuring to know that our physicians and nurses have the support of other skilled health professionals and access to the resources of the entire hospital.
We provide the referring physician with frequent status reports throughout the course of a patient's treatment. Our registered nurses are happy to answer questions from physicians, patients or family members prior to, during, or after treatment.