MSII Instructions
Pathology 201: Introduction and Guidelines for Students (2013-2014)
Course Director: Paul F. Shanley, M.D.
What does this course consist of?
Systemic Pathology is the second half of a two-year sequence in the basic science curriculum whose essence is the study of the pathologic basis of disease. General Pathology was part of the MS1 curriculum and comprises the first part of the Rubin's Pathology text. Expanding upon the systemic pathology component will be a series of mini-cases and discussions expanding the scope of the topics to include the pathophysiology of disease.
What is new for 2013-2014?
Appointment of a new Course Director
Appointment of a designated faculty "Student Liaison"
Appointment of "Subject Leaders" to assist the Course Director with the planning and instruction of each organ system
Adoption of Rubin's Pathology textbook as the "syllabus" and accompanying Question-and-Answer book for formative feedback
Transition from subjective faculty-derived unit examination questions to externally-derived and validated assessments in line with content on NBME Subject Exam in Pathology and USMLE Step 1
Introduction of audience response systems ("clickers") for promote interactivity and engagement
Streamlining of syllabi from an orientation of dense internal notes to acknowledgement of published resources (Rubin's Pathology text, Pathoma) with re-packaging of notes to include questions that will be answered during each session.
Shift in orientation from a pure "Pathology" orientation to extend into pathophysiology (part of the transition into what will be the "Disease 2: Clinicopathologic Features of Specific Diseases, Diagnosis & Management" course for the future) and correlate with other clinical experiences running concurrently (e.g., Differential Diagnosis, Case-Based Learning and Practice of Medicine).
What are the goals of the course?
By the end of the course, successful students will achieve the level of competence in discussing disease expected of a medical student completing the MS2 year, studying for USMLE Step 1, and preparing for the MS3 year and patient care responsibilities through the following broad goals and objectives. Specific learning objectives for sessions will be included at the time of each section. Students will be expected to:
Acquire a disease related vocabulary that is essential to understanding human illnesses.
Recognize important cellular and molecular mechanisms and theories fundamental to the pathogenesis of major human diseases.
Compare and contrast the biochemical, molecular, gross and histopathologic changes caused by common and/or important major organ system diseases.
Describe how molecular alterations affect structure, modify system function, and contribute to symptomatology.
Compare and contrast current biologic principles which govern changes in cells and tissues as a response to abnormal stimuli.
Analyze experimental models, investigational and epidemiological studies that advance understanding of human diseases.
Analyze disease dynamics and recognize the natural course of specific disease states and/or the result of therapeutic intervention.
Demonstrate the capability to analyze and evaluate a differential diagnosis through patient sessions or case examples.
Identify how pathologic findings are used for diagnosis and assessing disease outcomes.
How will I find the sessions?
The list with the sessions for each unit is found on the "Schedule" tab on the website under "Study of Disease."
How do I study the topics? What am I expected to do?
The Rubin's Pathology text will be read in full. Chapters will be assigned as they are encountered in the organ systems. To that end, the Group for Research in Pathology Education (GRIPE), comprised of members from medical schools across the country who are involved in undergraduate pathology education, have collectively devised objectives for medical students for both General and Systemic Pathology. They are optional but may prove useful to you in assessing your understanding of the material in reading the chapters in Rubin's Pathology and in preparing for the NBME Subject Exam in Pathology and USMLE Step 1.
Relationship of course objectives to medical program objectives and assessment



What textbooks are being used in the course?
Three books will be utilized extensively in Pathology 201 for the 2013-2014 academic year:
1) Rubin's Pathology: Clinicopathologic Foundations of Medicine
2) Lippincott's Illustrated Q&A Review of Rubin's Pathology
3) Lange: Pathophysiology of Disease





All texts are available online through the school's library or can be purchased from online retailers. Assigned readings from the Rubin's Pathology text will occur early in the course (see the Schedule tab on course web site or within Blackboard).

Where should I go to get information on what I don't understand?
Paul Shanley, M.D.
Course Director
Subject Leader: Renal
Subject Leader: Rheumatology
Subject Leader: Infection
Subject Leader: Neoplasia

Robert Corona, M.D.
Department Chair
Subject Leader: Neuro

Steve Landas, M.D.
Student Liaison
Subject Leader: Gastroenterology
Subject Leader: Genitourinary
Subject Leader: Head & Neck
Subject Leader: Bone & Soft Tissue

Neerja Vajpayee, M.D.
Subject Leader: Hematopathology

Ola El-Zammar, M.D.
Subject Leader: Pulmonary

Robert Stoppacher, M.D.
Subject Leader: Cardiovascular
Laura Knight, M.D.
Subject Leader: Perinatal/Neonatal

Arthur Tatum, M.D., Ph.D.
Subject Leader: Endocrine

Kenneth Strumpf, M.D.
Subject Leader: OB/GYN

Recommended Resources
Pathoma and Goljan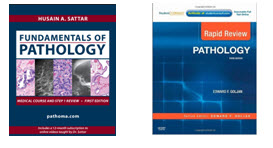 What is the attendance policy?
Although not required, attendance is encouraged because much of the class is interactive and discussion-oriented.

What are the expectations for professionalism?
An acceptance of fellow students and faculty as professional colleagues deserving courtesy and respect;
A focus on learning rather than meeting minimum course requirements or simply studying for the assessments;
An acceptance of uncertainty, ambiguity, and inevitability of change in relation to medical knowledge & practice;
A respect for alternative views or differing interpretations of scientific or clinical information, and a respect for different teaching styles and practices;
A willingness to assume personal responsibility for fulfilling course requirements;
A willingness to help the faculty identify errors or deficiencies in course materials, and to provide specific, thoughtful, and constructive feedback relating to sessions & other course content on the formal Course Evaluations
Cheating (e.g, infractions outlined in the student honor code, such as utilizing unauthorized material or electronic devices for exams, etc.) will be actively monitored. If confirmed, an incident report will be submitted and the matter referred to the College of Medicine Professionalism Officer for possible further action.
Are class sessions videotaped?
The majority of class sessions will be videotaped; however, certain designated clinical correlations sessions may not be videotaped and will be announced ahead of time.
What will happen in the class sessions?
Most classes will begin with a formative clicker question to anticipate what the speaker will talk about and conclude with a formative clicker question to assess whether there is understanding of key points of the topic. Additional clicker questions to promote interactivity and engagement may be used.

In the interest of fairness to all students, students should ask questions during class rather than waiting until after class.

What is the grading policy?


Students must maintain a cumulative combined average of at least 70% to pass the Unit Examinations. Grades will be carried to two decimal places and will not be rounded; grades of 69.99% and below will be reported as a "Fail." Unit scores will be posted to Blackboard following exam completion along with the class mean, median, standard deviation and grade distribution for the exercise. Unit examination questions will each count for one point and grades will be calculated by dividing the number of questions answered correctly by the total number of questions for the entire year.
* NOTE * Successful completion of the Unit Examination component is a prerequisite for taking the NBME Subject Examination in Pathology.

The NBME Subject Examination in Pathology will be graded as Pass/Fail and not factored into the numerical average. A score at the 7th percentile nationally or higher is required to pass the exam. Any student who achieves a score below the 7th percentile nationally will be reported as a "Fail." Students will be provided with data on the class mean and grade distribution for the exercise.
How is Exemplary Performance Recognized?

Exceptional student performance in Pathology is recognized annually with the Association of Pathology Chairs Award, presented to the top-performing student and included in the Commencement program, and with recognition by the American Society of Clinical Pathology, awarded to the top 5% of the class.

Awarding of Deficient Grades Based on Academics

Students who do not pass the course will be evaluated by the Academic Review Board for a review of their entire academic record. The Course Director will submit a recommendation for remediation to the Academic Review Board who then approves or modifies the recommendation.

Awarding of Failing Grades
Students who fail the Unit Examinations component either singularly or in combination with other component will receive an overall grade of "Fail" for the course with the expectation that the student re-take the course.

Awarding of Conditional Grades
Students who fail only the NBME Subject Examination component of the course will receive a grade of "Conditional" for the course with the expectation that the student complete summer remedial work and re-take the exam. Failure of the NBME Subject Examination for a second time will result in a grade of "Conditional Fail" for the course with the expectation that the student re-take the course.

Grades of "Incomplete"
Students who receive an Incomplete in the course for missed work due to excused absences should contact the Course Director to devise a mutually agreeable timetable to complete missed tasks.

Awarding of Deficient Grades Due to Non-Academic Behavior
All students must complete the mandatory evaluations that are assigned to them or they will receive a Conditional grade for the course per school policy.
Professionalism incidents may warrant a deficient grade in the course irrespective of the numerical average. School and course policies are posted on Blackboard and on the course web site.
What happens if I have to be absent and miss an examination?
Students who are absent for an excused reason will be allowed to make-up one missed Unit Examination during the academic year with a make-up examination, which will likely be in a different format and may include an oral component. Absences beyond that will result in a grade of Incomplete and additional coursework beyond the make-up exam will be required. The timing of any make-up exams will be at the discretion of the Phase 1 Committee Chair.

Students who miss the NBME Subject Examination for an excused reason will be allowed to complete an equivalent make-up exam.
What if I want to dispute an answer to a question?
During the allotted review period following completion of each unit examination, students may submit a formal written challenge supporting a different answer. Faculty review of questions will occur and will sometimes result in dropped questions or alternative acceptable answers. Any modifications will be posted to Blackboard; due to time constraints, students will not receive an individual response to question challenges.
What opportunities are there for formative feedback?
A question & answer book accompanying Rubin's Pathology will be used that contains numerous practice questions per topic along with explanations. The school library has an electronic version of this book that allows students to access the student question bank and take a timed USMLE-style test with immediate review and feedback.
What happens if need to withdraw from the course?
Students needing to withdraw from the course by the end of Unit 3 (November 18, 2013) will receive a grade of "W" for the course. After 50% of the course has been completed (start of Unit 4 on November 19, 2013 and beyond), a grade of "WP" or "WF" will be given depending on academic performance up to that point.
Who should I contact for help?
Multiple resources are available for students, including the services of Academic Support Services, AOA, course faculty and the designated faculty "Student Liaison" who will meet with struggling students both individually and in groups as part of targeted review sessions.