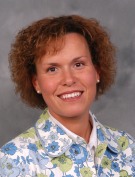 Jodie Brown, RN, MSN/MBA
Director, Center for Continuing Education

After being in the Air Force reserves, I came out of retirement to pursue further education. I would like to teach, and the Post Master's work supports that. Nursing truly is a life-long opportunity, both in what you want to do and the fact that you can take your career anywhere in the country.
—Carolyn Baskerville, RN, BS, MS, Post-Master's, 04, Pediatric
Content
Continuing Nursing Education
Whether or not you're enrolled in the College of Nursing, SUNY Upstate offers a variety of accredited, continuing nursing education courses for interested nurses. From half day to weekend-long conferences, nurses have the opportunity to enhance or learn new skills.
Continuing education courses are taught by a range of skilled faculty from across the region.  We partner with service line departments on our campus-such as Pediatrics or the AIDS center-to provide accredited specialty conferences. Courses such as Children at Risk, NP Review Course, Clinical Skills Day and Post Master's Certificate programs are repeated regularly because of popular interest.
Accreditation
Many continuing education programs are awarded with contact hours.
The SUNY Upstate Medical University Institute for Continuing Nursing Education is an approved provider of continuing nursing education by the New Jersey State Nurses Association, an accredited approver by the American Nurses™ Credentialing Center's Commission on Accreditation.
It has been assigned Provider Code NYP260-6/30/2017.
If you would like more information, have an idea of a program, or would like to collaborate with the college on a program, contact Jodie Brown at brownjod@upstate.edu or 315 464-3905.
Nurse Practitioner Certification Review Course
This is a comprehensive 2.5 day course designed to prepare Adult Gero and FNP participants for the ANCC and the AANP national certification exams or to serve as a review course for already certified nurse practitioners. 
Event Details
Monday, June 5 through Wednesday, June 7
Marriott Syracuse Downtown
100 East Onondaga Street
Syracuse, NY
Registration Fee
Adult Gero NP Course: $525, Early Bird $465 before 4/28/17
Family NP Course $525, Early Bird $465 before 4/28/17
Includes syllabus, breakfast and snacks each day
Online Registration:
Registration can be completed online at the APEA website


For more information
Jodie Brown, RN, MSN, MBA
Director, Continuing Nursing Education
315-464-3905
Please see attached brochure

for course schedule and additional information.
4th Annual Transitions in Care Symposium
Identifying and Addressing Drivers of High Utilization For Vulnerable Populations
Symposium Purpose
The Transitions in Care Symposium is a one-day event focusing on topics relevant to individuals involved in a patient's journey across the continuum of care.  This year's Symposium is focusing on populations with patterns of high utilization.
Keynote Speaker
Amy Boutwell, MD, MPP
Event Details
Tuesday, June 13, 2017
8 AM TO 5 PM followed by a reception
ONCENTER
800 South State Street
SYRACUSE, NY
Parking is free in the Oncenter parking garage
Accreditation
7.5 CE will be provided for the educational event for nurses, social workers, and healthcare executives.
Registration Fee
$125 per person.  Includes conference materials, light continental breakfast and lunch
Registration can be completed online at the Upstate Foundation website

Please see attached brochure

for Symposium Schedule and additional information.
For more information
Jodie Brown, RN, MSN/MBA
Director, Continuing Nursing Education
brownjod@upstate.edu
Online Nursing Case Management Course
A course for Nurses and other professionals who work directly with patients and coordinate their healthcare activities.
APPLY BY MARCH 1 FOR FALL, JUNE 1 FOR SPRING!
For additional information about the Case Management course, visit the course page.
For registration information and material call or email:
Jodie Brown, Director, brownjod@upstate.edu, 315 464-4276