Content
Institutional Compliance Office
University Hospital
Darlene Noyes,
University Hospital Compliance Officer
Phone:
315 464-4343
Fax:
315 464-4342
Email:
noyesda@upstate.edu
Loretta Harris Stickane,
University Hospital Compliance, Assistant Director
Phone:
315 464-4789
Email:
harrislo@upstate.edu
Faculty Practice Plans
Deb Gregoire,
Faculty Practice Plans Compliance Officer
Phone:
315 464-4793
Email:
baxterd@upstate.edu
The Institutional Compliance Office has been established to preserve the ethical and honest practice of all faculty and staff at SUNY Upstate Medical University.
The Institutional Compliance Programs are intended to promote adherence through education, monitoring, and corrective action, to University Hospital's and the faculty's mission, philosophy and values, and to Federal, State, and local laws and regulations.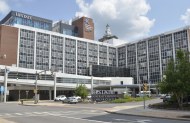 In addition, we seek to foster an environment in which our employees and staff are encouraged to report possible violations of law or ethical principles and concerns about business and health care practices.