Pledge Update
2013 Campaign Update
1,295 pledges totaling $489,063!
That's 16% toward our goal of 25% participation
as of 12/6
Why Support the Upstate Community Giving Campaign?
Your colleagues and co-workers can give you lots of good reasons. Each person has their own reasons to give, and their favorite charities to support. The Upstate Community Giving Campaign is and easy and flexible way to support the charity of your choice.
Listen to the compelling stories of a few Upstate Community Giving Campaign supporters listed below. Then make your pledge today!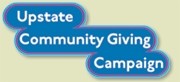 ---
Need Pledge Forms?
Call 464-4845 or visit:
Jacobsen Hall, Rm. 100
Weiskotten Hall, Rm. 1158
University Hospital, Rm. 1500A
Silverman Hall, Rm. 1104
Campus Activities Bldg, Rm. 326
Or
download a pledge form.

Helpful Links