Pledge Update
Pledge Total to Date
$516,889
from 1313 people!
$100 ePledge Winners
Congratulations!
9/28 - Linda Gribble
9/29 - Mark Woodford
9/30 - Linda Slater
10/1 - Michelle Strom
10/2 - Andrea Bleyle
10/5 - Cathy Cadley
10/6 - Chere Ware
10/7 - Wendi Ackerman
10/8 - Angelina Aicher
10/9 - Elizabeth LaDuke
$100 a day Winners
Quinnika Ayers
Nicholas Greco
Kathy Maurillo
Erin Pieklik
Amy Tetrault
CAB Membership Winner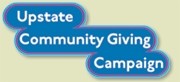 ---
---
---
Jeannette Gilhooley won a $50 gift card to Vince's Gourmet Imports
Antoinett Dufort won a Zoo Family Pack
Robert H. Seabury won a Pastabilities $50.00 Gift Card
Jennifer Kozlowski, Starbucks gift basket valued at $50
Lataveis Bryant, $50 gift card from Vince Gourmet
Content
Won't you join me?
Hello, my name is Wanda Thompson and I help support Vera House because they help women and children escape from abusive relationships. My eyes were opened to domestic violence when I was in high school. My best friend, Marie, married her abusive boyfriend, only to have him beat her while she was pregnant. She lost her baby, but she didn't leave him. It was not until she made a connection with a local charity like Vera House that she was she able to declare her independence and leave him.
Vera House means a great deal to me because there are many women like my friend, Marie. Vera House provides them with the support and encouragement necessary for them to change their lives.
Won't you join me in donating to a charity and making a difference in someone's life?