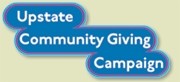 ---
---
Content
Won't you join me?
I Support the United Way
Hi, I'm Dr. Gregory Threatte and I give to the United Way through the Upstate Community Giving Campaign.
The United Way has a process for evaluating the needs of our community and selecting charities who meet these basic needs such as food, shelter, education and clothing.
I'm busy and I trust the United Way in making choices that give me the biggest bang for my charitable buck.
So, please join me in supporting our community through Upstate's Community Giving Campaign.