2016 Pledge
Pledge Total
As of 1/9/16 1,382 donors have pledged $528,291.
Thank you!
$100 ePledge Winners
Congratulations!
Day 1 - Beth DeRousie, IMT, Hospital Info Systems
Day 2 - Tree Carter, Record Storage
Day 3 - Darcy DiBiase, Marketing & University Communications
Day 4 - Beth Rolland, PM&R - Rehab Therapies
Day 5 - Nancy Ondrejka, CG Radiology RN's
Day 6 - Liliya Yatsyuk, Nursing-5E-Pre/Post
Day 7 - Patricia Racculia, Orthopedic Surgery
Day 8 - Karin McMullen, Nursing-Administration
Day 9 - Erin Peters, Office Of The President
Day 10 - Amanda Walsh, Clin Path Immunology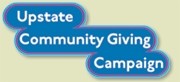 ---
---
Content
Won't you join me?
Deb Stehle, co-chair of Upstate's community giving campaign
As a lifelong Syracusan, "giving back" to this community means a lot to me. Through Upstate's campaign, we can impact the lives of people right here.
Did you know that, for the price of a six-pack of soda, you can provide five local families with emergency food and clothing? The power of our donations is amazing, and it's so easy to give.
By making a one-time donation, or contributing a few dollars each pay period, you can help people in our community, or across the globe. Take a look at ALL the charities supported by Upstate's campaign and, please, support those that are most important to YOU.
Won't you join me in making a difference?