Pledge Update
2013 Campaign Update
1,302 pledges totaling $490,695!
That's 16% toward our goal of 25% participation
as of 12/13
Won't you join me?
Click to listen >>
I Support E. John Gavras Center / Cerebral Palsy Association of Cayuga County
Hi, my name Dave Sikora and I support the E. John Gavras Center of Cayuga County.
The center trains and support children with developmental disabilities. I have supported this charity for 31 years because of the good they do.
Please join me in supporting the charity of your choice through the Upstate Community Giving Campaign.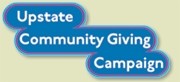 ---
Need Pledge Forms?
Call 464-4845 or visit:
Jacobsen Hall, Rm. 100
Weiskotten Hall, Rm. 1158
University Hospital, Rm. 1500A
Silverman Hall, Rm. 1104
Campus Activities Bldg, Rm. 326
Or
download a pledge form.

Helpful Links