Pledge Update
Pledge Total to Date
$516,889
from 1313 people!
$100 ePledge Winners
Congratulations!
9/28 - Linda Gribble
9/29 - Mark Woodford
9/30 - Linda Slater
10/1 - Michelle Strom
10/2 - Andrea Bleyle
10/5 - Cathy Cadley
10/6 - Chere Ware
10/7 - Wendi Ackerman
10/8 - Angelina Aicher
10/9 - Elizabeth LaDuke
$100 a day Winners
Quinnika Ayers
Nicholas Greco
Kathy Maurillo
Erin Pieklik
Amy Tetrault
CAB Membership Winner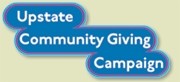 ---
---
---
Jeannette Gilhooley won a $50 gift card to Vince's Gourmet Imports
Antoinett Dufort won a Zoo Family Pack
Robert H. Seabury won a Pastabilities $50.00 Gift Card
Jennifer Kozlowski, Starbucks gift basket valued at $50
Lataveis Bryant, $50 gift card from Vince Gourmet
Content
Won't you join me?
I support the Don Roller Fund
at Upstate Cancer Center
My name is Don Sadeckas, and I am happy to be a supporter of the Don Roller Fund. This fund was created last year in memory of Don Roller who worked in the IMT department here at Upstate.
Don Roller died of cancer last year. Don was a great person who went out of his way to ensure the needs of his customers were met and always left a positive impression. The Don Roller fund was set up to help with the great cancer work done here at Upstate University Hospital and the future cancer center.
I ask everyone, especially those who knew Don Roller, to join me in honoring him by donating to this fund through the Upstate Community Giving Campaign.