Pledge Update
Pledge Total to Date
$516,889
from 1313 people!
$100 ePledge Winners
Congratulations!
9/28 - Linda Gribble
9/29 - Mark Woodford
9/30 - Linda Slater
10/1 - Michelle Strom
10/2 - Andrea Bleyle
10/5 - Cathy Cadley
10/6 - Chere Ware
10/7 - Wendi Ackerman
10/8 - Angelina Aicher
10/9 - Elizabeth LaDuke
$100 a day Winners
Quinnika Ayers
Nicholas Greco
Kathy Maurillo
Erin Pieklik
Amy Tetrault
CAB Membership Winner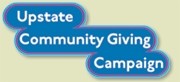 ---
---
---
Jeannette Gilhooley won a $50 gift card to Vince's Gourmet Imports
Antoinett Dufort won a Zoo Family Pack
Robert H. Seabury won a Pastabilities $50.00 Gift Card
Jennifer Kozlowski, Starbucks gift basket valued at $50
Lataveis Bryant, $50 gift card from Vince Gourmet
Content
Won't you join me?
I Support Golisano Children's Hospital at Upstate
As a mother and step-mother, the children's hospital is important to me because my husband and I have five children between us. As an employee of Upstate, I view my donations as an investment in the future of Central New York. Contributions like mine, whether large or small, help to ensure the best possible treatment, from general pediatrics to intensive care, and everything in between, is available for our youngest patients and their families.
Please support the Golisano Children's Hospital.