Pledge Update
2013 Campaign Update
1,236 pledges totaling $460,849!
That's 15% toward our goal of 25% participation
as of 11/22
Won't you join me?
Click to listen >>
I Support Golisano Children's Hospital at Upstate
As a mother and step-mother, the children's hospital is important to me because my husband and I have five children between us. As an employee of Upstate, I view my donations as an investment in the future of Central New York. Contributions like mine, whether large or small, help to ensure the best possible treatment, from general pediatrics to intensive care, and everything in between, is available for our youngest patients and their families.
Please support the Golisano Children's Hospital.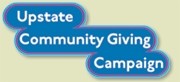 ---
Need Pledge Forms?
Call 464-4845 or visit:
Jacobsen Hall, Rm. 100
Weiskotten Hall, Rm. 1158
University Hospital, Rm. 1500A
Silverman Hall, Rm. 1104
Campus Activities Bldg, Rm. 326
Helpful Links