2016 Pledge
Pledge Total
As of 1/9/16 1,382 donors have pledged $528,291.
Thank you!
$100 ePledge Winners
Congratulations!
Day 1 - Beth DeRousie, IMT, Hospital Info Systems
Day 2 - Tree Carter, Record Storage
Day 3 - Darcy DiBiase, Marketing & University Communications
Day 4 - Beth Rolland, PM&R - Rehab Therapies
Day 5 - Nancy Ondrejka, CG Radiology RN's
Day 6 - Liliya Yatsyuk, Nursing-5E-Pre/Post
Day 7 - Patricia Racculia, Orthopedic Surgery
Day 8 - Karin McMullen, Nursing-Administration
Day 9 - Erin Peters, Office Of The President
Day 10 - Amanda Walsh, Clin Path Immunology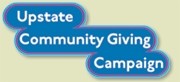 ---
---
Content
Won't you join me?
Chris Mieczkowski supports the Kidney Foundation.
Hi, I'm Chris Mieczkowski and I support the Kidney Foundation. When my mother was diagnosed with kidney disease, I learned just how much you need your kidneys to survive. My mom's initial outlook was grim.
However, with help from the Kidney Foundation and my mother's doctors, she lived for many years, for which I am very grateful.
Please join me in supporting the kidney foundation or another charity of your choice thru the Upstate Community Giving Campaign. It's very easy to donate thru payroll deduction.