Pledge Update
2014 Campaign Update
1,298 pledges totaling
$527,956.00
as of 3/25/15
Thank You!
$100 ePledge Winners (9/29-10/10)
Congratulations!
9/29 - Kathleen Deters Hayes
9/30 - Meraedith Lange
10/1 - Erin Peters
10/2 - Barbara Riggall
10/3 - Michele Berkery
10/4 - Sally Thompson
10/5 - Philip Ball
10/6 - Mary Usiatynski
10/7 - Antoinette Wood
10/8 - Tammy Blackburn
10/9 - Shelley Horak
10/10 - Tree Carter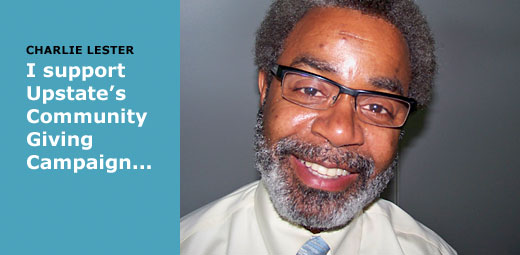 Won't you join me?
Charlie Lester supports the Sharon Brangman Endowed Professorship
Hi, my name is Charlie Lester and I am really proud to support the Sharon Brangman Endowed Professorship. As you may know, Sharon is my wonderful wife, an amazing doctor, and an extraordinary woman. At home, I see her take the late night phone calls from doctors, and other people, asking her to help their aging Mom or Dad. I know that Sharon's patients are living longer and healthier lives because of her devotion and skills.
Please join me in donating to this endowed Professorship in Geriatric Medicine. We need more physicians and professors like my wife, Sharon Brangman.