Pledge Update
Pledge Total to Date
$516,889
from 1313 people!
$100 ePledge Winners
Congratulations!
9/28 - Linda Gribble
9/29 - Mark Woodford
9/30 - Linda Slater
10/1 - Michelle Strom
10/2 - Andrea Bleyle
10/5 - Cathy Cadley
10/6 - Chere Ware
10/7 - Wendi Ackerman
10/8 - Angelina Aicher
10/9 - Elizabeth LaDuke
$100 a day Winners
Quinnika Ayers
Nicholas Greco
Kathy Maurillo
Erin Pieklik
Amy Tetrault
CAB Membership Winner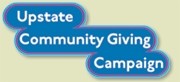 ---
---
---
Jeannette Gilhooley won a $50 gift card to Vince's Gourmet Imports
Antoinett Dufort won a Zoo Family Pack
Robert H. Seabury won a Pastabilities $50.00 Gift Card
Jennifer Kozlowski, Starbucks gift basket valued at $50
Lataveis Bryant, $50 gift card from Vince Gourmet
Content
Won't you join me?
Chris Lalone supports the Upstate Community Giving Campaign at the Hamilton White Level
Hi, I'm Chris Lalone. As a 30 year Upstate employee, I've always supported the campaign. Last year I joined Hamilton White to show my appreciation and support to the agencies that serve our wonderful community. The campaign offers the opportunity to choose from 350 health & human service organizations, and to contribute by payroll deduction as well as cash or check.
Please join me in giving at a leadership level to the Upstate Community Giving Campaign.