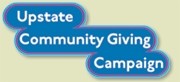 ---
---
Content
Won't you join me?
Chris Lalone supports the Upstate Community Giving Campaign at the Hamilton White Level
Hi, I'm Chris Lalone. As a 30 year Upstate employee, I've always supported the campaign. Last year I joined Hamilton White to show my appreciation and support to the agencies that serve our wonderful community. The campaign offers the opportunity to choose from 350 health & human service organizations, and to contribute by payroll deduction as well as cash or check.
Please join me in giving at a leadership level to the Upstate Community Giving Campaign.