Pledge Update
2013 Campaign Update
1,236 pledges totaling $460,849!
That's 15% toward our goal of 25% participation
as of 11/22
Won't you join me?
Click to listen >>
I'm Dr Leslie Kohman, and I have been part of Upstate for decades. Upstate's generosity to many local charities makes me proud. Your contributions to Upstate's Community Giving Campaign will ensure that vital services and programs continue to make Central New York a great place to live. Give generously — it feels good!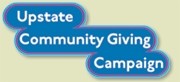 ---
Need Pledge Forms?
Call 464-4845 or visit:
Jacobsen Hall, Rm. 100
Weiskotten Hall, Rm. 1158
University Hospital, Rm. 1500A
Silverman Hall, Rm. 1104
Campus Activities Bldg, Rm. 326
Helpful Links