Pledge Update
Pledge Total to Date
$516,889
from 1313 people!
$100 ePledge Winners
Congratulations!
9/28 - Linda Gribble
9/29 - Mark Woodford
9/30 - Linda Slater
10/1 - Michelle Strom
10/2 - Andrea Bleyle
10/5 - Cathy Cadley
10/6 - Chere Ware
10/7 - Wendi Ackerman
10/8 - Angelina Aicher
10/9 - Elizabeth LaDuke
$100 a day Winners
Quinnika Ayers
Nicholas Greco
Kathy Maurillo
Erin Pieklik
Amy Tetrault
CAB Membership Winner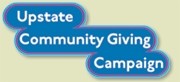 ---
---
---
Jeannette Gilhooley won a $50 gift card to Vince's Gourmet Imports
Antoinett Dufort won a Zoo Family Pack
Robert H. Seabury won a Pastabilities $50.00 Gift Card
Jennifer Kozlowski, Starbucks gift basket valued at $50
Lataveis Bryant, $50 gift card from Vince Gourmet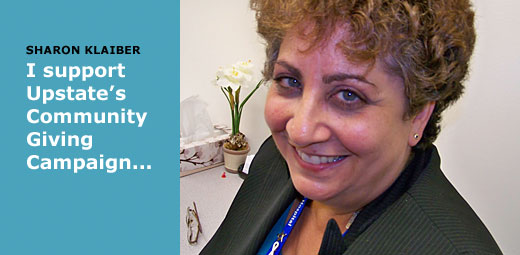 Content
Won't you join me?
Sharon Klaiber supports hospital funds and community charities
I'm Sharon Klaiber and it's important to me to give to our hospital and our community. I support Upstate's Cancer Center, Friend In Deed, stroke fund, Nurse Recognition, and the Nancy deMaintenon fund. I also support the Food Bank of CNY.
I like that I can divide my donation among all of these important funds because they make such a difference for our patients. I support the Cancer Center because of its unique contribution to our community. Friend in Deed assists with patient needs, and the Stroke Fund supports patient education and outreach. I donate to nursing funds to give back to our dedicated nursing staff and to remember my friend, Nancy, who was a valued colleague.
Please join me in supporting the charity of your choice and helping to make a difference through Upstate's Community Giving Campaign.