2016 Pledge
Pledge Total
As of 1/9/16 1,382 donors have pledged $528,291.
Thank you!
$100 ePledge Winners
Congratulations!
Day 1 - Beth DeRousie, IMT, Hospital Info Systems
Day 2 - Tree Carter, Record Storage
Day 3 - Darcy DiBiase, Marketing & University Communications
Day 4 - Beth Rolland, PM&R - Rehab Therapies
Day 5 - Nancy Ondrejka, CG Radiology RN's
Day 6 - Liliya Yatsyuk, Nursing-5E-Pre/Post
Day 7 - Patricia Racculia, Orthopedic Surgery
Day 8 - Karin McMullen, Nursing-Administration
Day 9 - Erin Peters, Office Of The President
Day 10 - Amanda Walsh, Clin Path Immunology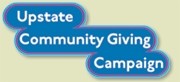 ---
---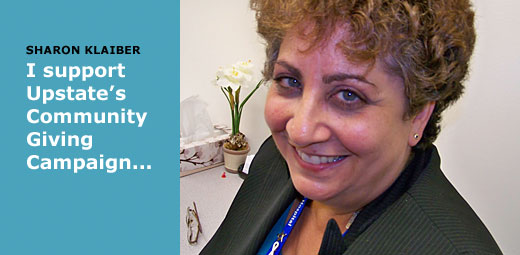 Content
Won't you join me?
Sharon Klaiber supports hospital funds and community charities
I'm Sharon Klaiber and it's important to me to give to our hospital and our community. I support Upstate's Cancer Center, Friend In Deed, stroke fund, Nurse Recognition, and the Nancy deMaintenon fund. I also support the Food Bank of CNY.
I like that I can divide my donation among all of these important funds because they make such a difference for our patients. I support the Cancer Center because of its unique contribution to our community. Friend in Deed assists with patient needs, and the Stroke Fund supports patient education and outreach. I donate to nursing funds to give back to our dedicated nursing staff and to remember my friend, Nancy, who was a valued colleague.
Please join me in supporting the charity of your choice and helping to make a difference through Upstate's Community Giving Campaign.