Pledge Update
Pledge Total to Date
$516,889
from 1313 people!
$100 ePledge Winners
Congratulations!
9/28 - Linda Gribble
9/29 - Mark Woodford
9/30 - Linda Slater
10/1 - Michelle Strom
10/2 - Andrea Bleyle
10/5 - Cathy Cadley
10/6 - Chere Ware
10/7 - Wendi Ackerman
10/8 - Angelina Aicher
10/9 - Elizabeth LaDuke
$100 a day Winners
Quinnika Ayers
Nicholas Greco
Kathy Maurillo
Erin Pieklik
Amy Tetrault
CAB Membership Winner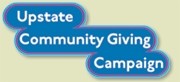 ---
---
---
Jeannette Gilhooley won a $50 gift card to Vince's Gourmet Imports
Antoinett Dufort won a Zoo Family Pack
Robert H. Seabury won a Pastabilities $50.00 Gift Card
Jennifer Kozlowski, Starbucks gift basket valued at $50
Lataveis Bryant, $50 gift card from Vince Gourmet
Content
Won't you join me?
Yvonne Goodman supports the Red Cross
This organization is always the first to respond whenever there is a major disaster and provides relief around the world. Their assistance after the major earthquake in Haiti was inspiring.
I am personally moved by the ongoing blood drives that the Red Cross holds. Due to a medical complication, I almost lost my life recently and was saved by four units of blood. I now know that every time one person donates blood it saves three lives and every two seconds someone in American needs blood. That person could be you or a family member.
I have a new appreciation for the work that the Red Cross does.
Please join me by donating to this life-saving organization, or another charity of your choice, through Upstate's Community Giving Campaign.