2016 Pledge
Pledge Total
As of 1/9/16 1,382 donors have pledged $528,291.
Thank you!
$100 ePledge Winners
Congratulations!
Day 1 - Beth DeRousie, IMT, Hospital Info Systems
Day 2 - Tree Carter, Record Storage
Day 3 - Darcy DiBiase, Marketing & University Communications
Day 4 - Beth Rolland, PM&R - Rehab Therapies
Day 5 - Nancy Ondrejka, CG Radiology RN's
Day 6 - Liliya Yatsyuk, Nursing-5E-Pre/Post
Day 7 - Patricia Racculia, Orthopedic Surgery
Day 8 - Karin McMullen, Nursing-Administration
Day 9 - Erin Peters, Office Of The President
Day 10 - Amanda Walsh, Clin Path Immunology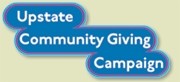 ---
---
Content
Won't you join me?
I Support environmental conservation and animal rights
I'm Dan Dippel, and I support wildlife, and environmental conservation, and animal rights charities.
It's taken millions of years of evolution to get to where we're at now, and in just the last couple hundred years, we humans have really done a lot to contaminate our world. So I contribute what I can to these organizations to try and reverse that process, even if it's just a little.
Please join me and give what you can to charities you care about. Honestly, you won't even feel it if you donate just a few dollars per paycheck&emdash;it makes a huge difference to these charities&emdash;plus it's good karma.