2016 Pledge
Pledge Total
As of 1/9/16 1,382 donors have pledged $528,291.
Thank you!
$100 ePledge Winners
Congratulations!
Day 1 - Beth DeRousie, IMT, Hospital Info Systems
Day 2 - Tree Carter, Record Storage
Day 3 - Darcy DiBiase, Marketing & University Communications
Day 4 - Beth Rolland, PM&R - Rehab Therapies
Day 5 - Nancy Ondrejka, CG Radiology RN's
Day 6 - Liliya Yatsyuk, Nursing-5E-Pre/Post
Day 7 - Patricia Racculia, Orthopedic Surgery
Day 8 - Karin McMullen, Nursing-Administration
Day 9 - Erin Peters, Office Of The President
Day 10 - Amanda Walsh, Clin Path Immunology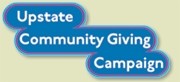 ---
---
Content
Won't you join me?
Cindy Cress supports AIDs Community Resources
I am Cindy Cress and I support AIDs Community Resources because the services offered by this local organization are crucial/literally life-saving to people infected with and affected by HIV/AIDS.
In the early '80s, I worked in a San Francisco hospital and saw many young people dying horrible deaths from a mysterious, incurable disease. In July of '83, a very good friend of mine died at age 26 of that disease--now known as AIDS. June 5, '11 marked 30 years since the first AIDS diagnosis in the United States.
We work in hospitals because we want to care for the sick and injured, and help them get better. The Community Giving Campaign gives us another way to help people. Won't you join me by donating to a charity that is as important to you as AIDs Community Resources is to me?