2016 Pledge
Pledge Total
As of 1/9/16 1,382 donors have pledged $528,291.
Thank you!
$100 ePledge Winners
Congratulations!
Day 1 - Beth DeRousie, IMT, Hospital Info Systems
Day 2 - Tree Carter, Record Storage
Day 3 - Darcy DiBiase, Marketing & University Communications
Day 4 - Beth Rolland, PM&R - Rehab Therapies
Day 5 - Nancy Ondrejka, CG Radiology RN's
Day 6 - Liliya Yatsyuk, Nursing-5E-Pre/Post
Day 7 - Patricia Racculia, Orthopedic Surgery
Day 8 - Karin McMullen, Nursing-Administration
Day 9 - Erin Peters, Office Of The President
Day 10 - Amanda Walsh, Clin Path Immunology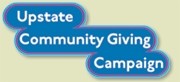 ---
---
Content
Won't you join me?
I Support AIDS Community Resources
Hi, I'm Troy Bisesi and I support AIDS Community Resources. I have a family member who suffers from AIDS. Community Resources has helped him get medication and find safe, affordable housing. It is a judgment-free organization. I've seen the positive effect that AIDs Community Resources has had on my family and on many others. That's why I donate to the organization through Upstate's Community Giving Campaign. Please join me and give generously. You'll be supporting the agencies that are most important to you and your family.