Pledge Update
2013 Final Campaign Total
1,414 pledges totaling $586,649!
That's 18% toward our goal of 25% participation
as of 2/4/14
Won't you join me?
Click to listen >>
Barry Berg supports Upstate Medical Alumni Fund in Memory of Patrick Mathews
I've taught at Upstate for over 38 years and have met many wonderful students. Patrick Mathews, medical school class of 2003, represented the very best. He was bright, compassionate, and very proud of his Central New York heritage. He died from brain cancer during his residency.
Some of his close classmates and I established this fund to continue Patrick's legacy and support Upstate medical students. This award is the best way I know to honor Patrick and to enable him to contribute to the school he so loved.
Please join me by donating to the charities of your choice thru the Upstate community giving campaign.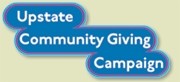 ---
Need Pledge Forms?
Call 464-4836 or download a pledge form.

Helpful Links