Pledge Update
Pledge Total to Date
$516,889
from 1313 people!
$100 ePledge Winners
Congratulations!
9/28 - Linda Gribble
9/29 - Mark Woodford
9/30 - Linda Slater
10/1 - Michelle Strom
10/2 - Andrea Bleyle
10/5 - Cathy Cadley
10/6 - Chere Ware
10/7 - Wendi Ackerman
10/8 - Angelina Aicher
10/9 - Elizabeth LaDuke
$100 a day Winners
Quinnika Ayers
Nicholas Greco
Kathy Maurillo
Erin Pieklik
Amy Tetrault
CAB Membership Winner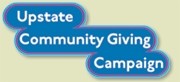 ---
---
---
Jeannette Gilhooley won a $50 gift card to Vince's Gourmet Imports
Antoinett Dufort won a Zoo Family Pack
Robert H. Seabury won a Pastabilities $50.00 Gift Card
Jennifer Kozlowski, Starbucks gift basket valued at $50
Lataveis Bryant, $50 gift card from Vince Gourmet
Content
Won't you join me?
Barry Berg supports Upstate Medical Alumni Fund in Memory of Patrick Mathews
I've taught at Upstate for over 38 years and have met many wonderful students. Patrick Mathews, medical school class of 2003, represented the very best. He was bright, compassionate, and very proud of his Central New York heritage. He died from brain cancer during his residency.
Some of his close classmates and I established this fund to continue Patrick's legacy and support Upstate medical students. This award is the best way I know to honor Patrick and to enable him to contribute to the school he so loved.
Please join me by donating to the charities of your choice thru the Upstate community giving campaign.