2016 Pledge
Pledge Total
As of 1/9/16 1,382 donors have pledged $528,291.
Thank you!
$100 ePledge Winners
Congratulations!
Day 1 - Beth DeRousie, IMT, Hospital Info Systems
Day 2 - Tree Carter, Record Storage
Day 3 - Darcy DiBiase, Marketing & University Communications
Day 4 - Beth Rolland, PM&R - Rehab Therapies
Day 5 - Nancy Ondrejka, CG Radiology RN's
Day 6 - Liliya Yatsyuk, Nursing-5E-Pre/Post
Day 7 - Patricia Racculia, Orthopedic Surgery
Day 8 - Karin McMullen, Nursing-Administration
Day 9 - Erin Peters, Office Of The President
Day 10 - Amanda Walsh, Clin Path Immunology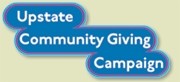 ---
---
Content
Won't you join me?
Barry Berg supports Upstate Medical Alumni Fund in Memory of Patrick Mathews
I've taught at Upstate for over 38 years and have met many wonderful students. Patrick Mathews, medical school class of 2003, represented the very best. He was bright, compassionate, and very proud of his Central New York heritage. He died from brain cancer during his residency.
Some of his close classmates and I established this fund to continue Patrick's legacy and support Upstate medical students. This award is the best way I know to honor Patrick and to enable him to contribute to the school he so loved.
Please join me by donating to the charities of your choice thru the Upstate community giving campaign.