2016 Pledge
Pledge Total
As of 1/9/16 1,382 donors have pledged $528,291.
Thank you!
$100 ePledge Winners
Congratulations!
Day 1 - Beth DeRousie, IMT, Hospital Info Systems
Day 2 - Tree Carter, Record Storage
Day 3 - Darcy DiBiase, Marketing & University Communications
Day 4 - Beth Rolland, PM&R - Rehab Therapies
Day 5 - Nancy Ondrejka, CG Radiology RN's
Day 6 - Liliya Yatsyuk, Nursing-5E-Pre/Post
Day 7 - Patricia Racculia, Orthopedic Surgery
Day 8 - Karin McMullen, Nursing-Administration
Day 9 - Erin Peters, Office Of The President
Day 10 - Amanda Walsh, Clin Path Immunology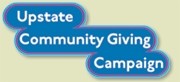 ---
---
Content
Three Great Incentive Programs!
1. Two Weeks - $100 daily winners!
Two Week E-Pledge Incentives - Daily $100 winners from Oct 3. - Oct 14.
Daily $100 winners will be drawn thru Oct. 9.  ePledge early to be included in daily drawings!
Winners announced in Upstate Announcements, campus TVs, www.upstate.edu/cgc
3. United Way Incentives
To qualify for the Step-up Challenge:


Start giving, or increase your gift, by $1 per week ($52 per year) and you'll be entered to win your choice of 4 grand prizes as well as daily and special weekly prizes

awarded throughout the campaign. Step Up Challenge official rules

DAILY PRIZES

GRAND PRIZES:
1) Dream Card
$3,000 debit card to use as you wish. Donated by M&T Bank.
2) Fill Your Fridge
$3,000 gift card for food or merchandise at any store location. Donated by Wegmans.
3) Home Makeover
$3,000 in home furnishings for any room in your home. Donated by Raymour & Flanigan Furniture.
4) Dream Vacation
Add $3,000 to your vacation budget. Donated by Carrier.
Winners announced weekly on facebook, twitter and at www.unitedway-cny.org
Return your pledge early for more chances to win!
ALL PRIZES ARE DONATED
---
2016 Step Up Prize Winners
Margaret Riley, Oct 3, $50 gift card to Tops
Janice Harvey, Oct 12, 2 race passes to Pole Position
Susan Stewart, Oct 13, $50 gift card to Tops
Elizabeth Gooley, Oct 18, $50 gift card to Red Robin
Joseph Van Sickle, Oct 21, Fun Friday prize (not yet chosen)
Amanda Raymond, Nov 30, $50 Gift card to Four Seasons Golf and Ski Center