Pledge Update
Pledge Total to Date
$516,889
from 1313 people!
$100 ePledge Winners
Congratulations!
9/28 - Linda Gribble
9/29 - Mark Woodford
9/30 - Linda Slater
10/1 - Michelle Strom
10/2 - Andrea Bleyle
10/5 - Cathy Cadley
10/6 - Chere Ware
10/7 - Wendi Ackerman
10/8 - Angelina Aicher
10/9 - Elizabeth LaDuke
$100 a day Winners
Quinnika Ayers
Nicholas Greco
Kathy Maurillo
Erin Pieklik
Amy Tetrault
CAB Membership Winner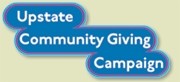 ---
---
---
Jeannette Gilhooley won a $50 gift card to Vince's Gourmet Imports
Antoinett Dufort won a Zoo Family Pack
Robert H. Seabury won a Pastabilities $50.00 Gift Card
Jennifer Kozlowski, Starbucks gift basket valued at $50
Lataveis Bryant, $50 gift card from Vince Gourmet
Content
Leadership Giving
The United Way recognizes Upstate employees who contribute $1,000 and above as Hamilton White Society Leadership Givers. Their names are listed in the United Way's annual "Leadership Giving Roster" sent to all members in the Fall. Donors pledging at the Hamilton White level for the first time receive a wooden replica of the Hamilton White House. Hamilton White Leadership Givers are invited to a United Way reception in the Spring.
Upstate also recognizes Leadership Givers at either level on the Community Giving Campaign website and in the Friends and Advocates newsletter. Hamilton White Leadership Givers are invited to reception hosted by the President's Office.
(Last Updated: August 24, 2016.)
Hamilton White Society Leadership Givers
Jerrold Abraham
Stephen A. Albanese
Lisa Alexander
Andrea Allen
David Amberg
Niki Ammann
Veronica Amsterdam
April Ashby
Dale Avers
Shawky Badawy
Ann Barker-Griffith
Sharon Bauer
Robert Beach
Richard Beers
Katherine Beissner
Donald Blair
Jeffrey Bogart
Lenore Boris
Deborah Bradshaw
Sharon Brangman and Charlie Lester
Gennady Bratslavsky
Carol Braund
Kimberly Brown
Debra Buchan
Jeffrey Buckman
Lisa Caldwell
T. Michele Caliva
Karen Capogreco
Jennifer Carey
Robert Carhart, Jr
Gwynne Conway
Robert Cooney
Jill Corbett
Robert Corona
Timothy Damron
Nancy Daoust
Rajesh Dave
Sandra Delaney
Mantosh Dewan
Joan Dolinak
Robert J. Dollard
Michelle Dougherty
Dawn Drake
Robert Dunton
Gregory L. Eastwood
Thomas Edwards
John Epling
David and Lauren Feiglin
Bridget Flanagan
Kimberly Foote
Eric Frost
Richard Gardner
Elton Garvin
Toni Gary
Jeanmarie Glasser
Michael and Wendy Gordon
Gerald Gordon
Susan Graham
William Grant
James Greenwald
Robert Gregory
Bonnie Grossman
Seung Shin Hahn
Pamela Haines
Holly Haines McCurdy
William Hannan
Kelly Hartman
Mary Hartnett
E. Robert Heitzman
Tanya Hicks
John Hoepner
Philip Holtzapple
Kay Howard
Zanette Howe
Paul and Barbara Hrybinczak
Dan Hurley and Judy Drucker
Shernaz Hurlong
Harold Husovsky and Susan Stred
Matthew Hutz
Sofia Hvozda
Shahram Izadyar
Burk Jubelt
Eugene Kaplan
Vickie Keeler
David Keith
Robert Kellman
Gloria Kennedy
Richard Kilburg
Molly King
Sharon Z. Klaiber
Leslie Kohman
Barbara Krenzer
Maggie Krywalski
Christopher Lalone
Steve Landas
Danielle Laraque-Arena
Dawn Leadley
Stephen Lebduska
Richard Litz
Lee Livermore
David Duggan and Lynn Cleary
Michael and Nancy Lyon

Patricia Mabie
Mary MacBlane
Joyce Mackessy
Margaret Maimone
Zahi Makhuli
Jeanna Marraffa
Robert Marzella
John McCabe
Archie McEvers
Maureen Miller
Bonnie Miner
David Mitchell
Lisa Mitchell
Vicki Monticello
Brian Moore and Chevelle Jones-Moore
Christopher Morley
Cynthia Morris
Susan Murphy
Nicholas Nicotra
Paul Norcross
Christopher Norman
Patricia Numann
Joan O'Brien
Colleen O'Leary
Kent Ogden
Mary Pat Oliker
Eric Olson
Marjorie Ostrander
Nancy Page
Frederick Parker, Jr
Thomas Pelis
Paul Phillips
Francesca Pignoni
Thomas Poole
Luke Probst
Lisa Procanick
Josephine Przepiora
Robert Quinn
Thomas Quinn
Michael Ratner
Ken Redmore
Robert Richardson
Barbara Riggall
David Rizzo
Renae Rokicki
Kimberly Rouselle
Lorne Runge
Stephen Rusinko
Donald Sadeckas
Douglas Sandbrook
Joseph and Jean Sanger
Ellie Scala
Mark Schmitt
Robert H. Seabury
Oleg Shapiro
Lynn Shepard Scott
Philip Sherwood
Edward Shillitoe
K. Bruce Simmons
Charles Simpson
Donald Simpson
Robert Slavens
Scott Small
Thomas and Bettina Smallman
Joseph Smith
Antoinette Smith
Eric Smith
Jeffrey Smith
Joseph Smythe
Joseph Spadaro
Mark Stebbins
Deb Stehle
Constance Stein
Calixto Suarez
Sherard Tatum
Terrence Thines
P. Sebastian Thomas
Wanda Thompson
Maxine Thompson
Winthrop Thurlow
Paula Trief
Margaret Turk
David Turner
Mary Grace VanNortwick
Richard Veenstra
Terry Wagner
Robert Weber
Howard Weinberger
Ruth Weinstock
Thomas Welch
Jennifer Welch
Angela West
Ronald Westbrook
Shelley White
William and Karen Williams
Susan Williams
Andrij and Martha Wojtowycz
L. Thomas Wolff
Priscilla Worral
Stuart Wright
James Zahra
5 anonymous N/A