2016 Pledge
Pledge Total
As of 1/9/16 1,382 donors have pledged $528,291.
Thank you!
$100 ePledge Winners
Congratulations!
Day 1 - Beth DeRousie, IMT, Hospital Info Systems
Day 2 - Tree Carter, Record Storage
Day 3 - Darcy DiBiase, Marketing & University Communications
Day 4 - Beth Rolland, PM&R - Rehab Therapies
Day 5 - Nancy Ondrejka, CG Radiology RN's
Day 6 - Liliya Yatsyuk, Nursing-5E-Pre/Post
Day 7 - Patricia Racculia, Orthopedic Surgery
Day 8 - Karin McMullen, Nursing-Administration
Day 9 - Erin Peters, Office Of The President
Day 10 - Amanda Walsh, Clin Path Immunology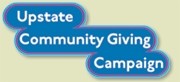 ---
---
Content
Frequently Asked Questions
What is the Community Giving Campaign?
The Community Giving Campaign is Upstate's annual charitable solicitation for all State, Research and MedBest employees. It is a convenient way to give to all your favorite charities at one time by check, payroll deduction or credit card (e-Pledge only).
How much of my contribution actually goes to my charity?
State employees: By a written agreement with the local SEFA committee the administrative costs for The United Way are 9%.
Research and MedBest employees: Administrative costs for the United Way is 11%.
Does the United Way take a "cut" off the top of the funding that it gives to agencies?
No, United Way gives 100% of the programs funding that is awarded to them - provided the annual campaign is successful.
Why should I give to United Way when I can give directly to charities? Doesn't this just add more overhead?
United Way funds programs, not agencies. What this distinction means is that donor dollars are not put into a general agency budget that can be used for any purpose. United Way dollars are directed specifically to programs that help people. Many donors prefer this approach. Also, for many agencies, there is a great benefit in receiving United Way dollars because they serve as the local match portions for state and federal grants. United Way is a highly efficient fundraising organization that can raise money less expensively than most agencies. In addition, the flow of money from United Way is consistent and allows agencies to plan and budget effectively.
I already give to my church and other organizations, why should I support this campaign?
This campaign offers the opportunity to choose from hundreds of health & human service organizations, and The Upstate Foundation and Alumni funds, and to contribute by payroll deduction as well as check or credit card.
Will I still get paper pledge form packet if I ePledge?
No, if you ePledge by Oct. 9, you will not receive a paper pledge form.
Can I make a donation using my credit card?
Yes, you may donate by credit card via ePledge
If I choose payroll deduction, when will I see the deduction in my paycheck?
Although pledge cards are filled out during the campaign, deductions will not begin until the first paycheck in January and continue for one year.
What if I want to donate to an agency in a different county?
State employees may donate to agencies in any county as long as it's listed in the statewide SEFA directory

.
Research and MedBest employees may contribute to any 501(c)(3) health and human service organization located in the US.
How can I add an agency to the campaign?
State employees: To be included in the SEFA campaign, an agency must apply online at sefanys.org


between December 1 and January 15th. Contact Craig Collie from the United Way at 315.428.2216 with any questions.

Research and MedBest employees: You may simply write in the agency name on their pledge card (the agency must be a NYS 501(c)(3) health and human service organization located in New York State).
Can I exclude an agency?
Simply write the name of the agency you wish to exclude on your pledge card.
If I do not wish to designate my gift, where does the money go?
State employees: all undesignated donations are distributed in the same proportion as the designated funds.

Research and MedBest employees: undesignated donations support the United Way Community Program Fund, Initiative Fund, Capacity Building Fund and United Way operations.
Is my contribution tax deductible?
Yes, contributions are fully tax deductible.
Can a temporary employee or traveling nurse contribute to the campaign?
No, you must be an employee of Upstate Medical University or MedBest to participate in our campaign.
Do I need to return my pledge card even if I am not contributing?
Yes, this assures us that everyone received their pledge card and had the opportunity to participate in the campaign.