Pledge Update
2013 Final Campaign Total
1,414 pledges totaling $586,649!
That's 18% toward our goal of 25% participation
as of 2/4/14
Pledge Today!
enter your username (first initial, last name) and password from last year, or click "forgot password" to have one sent to you

you will have 24 hours upon opening the email to create new password, or you'll need to request again

ePledge by payroll deduction or credit card
help sustain Upstate's efforts to "think green" and "save a buck" by ePledging!
take advantage of special two-week epledge incentive - pledge online between Sept. 29 and Oct. 10 - a $100 winner-a-day will be drawn!!
Complete pledge form and return via interoffice mail to: Marketing, 250 Harrison St., 4th floor
Choose one method of payment: either check (payable to SEFA/UWCNY) or payroll deduction (begins January 2015)

If you choose payroll deduction, remember to SIGN YOUR PLEDGE FORM

Make your designation choice(s) - partial list of agencies on bottom of pledge form pdf
Complete list of local community agencies (SEFA booklet)
Complete list of statewide community agencies (SEFA booklet)
keep blue employee copy for your records
See how easy it is to qualify for fabulous prizes!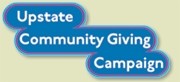 ---
Need Pledge Forms?
Call 464-4845 or visit:
Jacobsen Hall, Rm. 100
Weiskotten Hall, Rm. 1158
University Hospital, Rm. 1500A
Silverman Hall, Rm. 1104
Campus Activities Bldg, Rm. 326
Or
download a pledge form.

Helpful Links