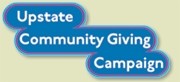 ---
---
Content
Pledge Today!
ePledge between Sept. 28 and Oct. 9 - $100 winner-a-day will be drawn!
STEP-BY-STEP ePLEDGE INSTRUCTIONS
Enter your username and password from last year, or if you are new or forgot, click "forgot password" to have one sent to you

You will have 24 hours upon opening the email to reset your password, or you'll need to request again

Click on I'll Pledge Now
Step 1: Select Pledge Type — choose payroll deduction or credit card, click NEXT
Step 2: Enter Pledge Amount — click YES if you wish to designate your pledge to specific organizations, click NEXT
Step 3: Enter Designations — click on the Agency Search button to contribute to local and statewide agencies, including The Upstate Foundation/Alumni funds

You may choose as many designations as you wish — simply search for the agency name or key word, or enter the agency/fund number, click search
A list of choices may come up — put the dollar amount of your pledge that you wish to designate next to the agency of your choice, and click ADD. You will be back at the search screen — you may continue to add designations and when you are done, click NEXT

Step 4: Verify Information — check boxes that may apply to your pledge, and enter or verify your address so the agencies may acknowledge your gifts, click NEXT
You will be asked to review your pledge and click CONFIRM — you will receive an email confirmation of your pledge.
See how easy it is to qualify for fabulous prizes!