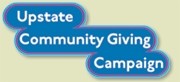 ---
---
Content
Which agencies/funds can I support?
The Community Giving Campaign makes it easy to support those in need by offering hundreds of local and statewide nonprofit organizations to choose from, including The Upstate Foundation funds and Upstate Medical Alumni funds. Upstate employees may choose from any of the following:
Stories from some community agencies...